Pyrenees 2009
Lac d'Anglas – Arrens-Marsous
We took a slow morning, we didn't feel like rushing away from this beautiful place. We said good bye to Frank and Herman, they where taking another route so this was the last good buy (at least what we thought it would be). It was a bit sad as we had became really good friends.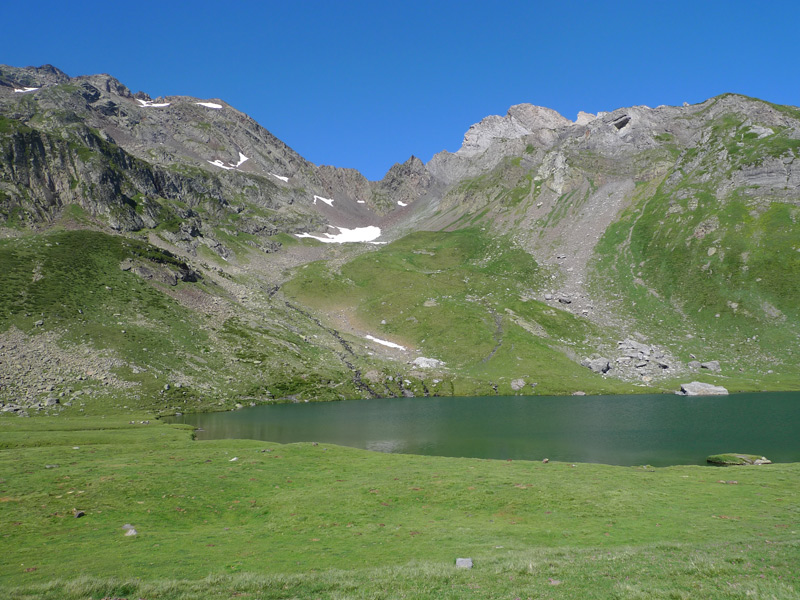 While the early morning past our calm camping-place slowly got more visitors. Mostly early day-hikers and some fisher-mans. It was time for us to leave. We packed our things and started our way down the mountain.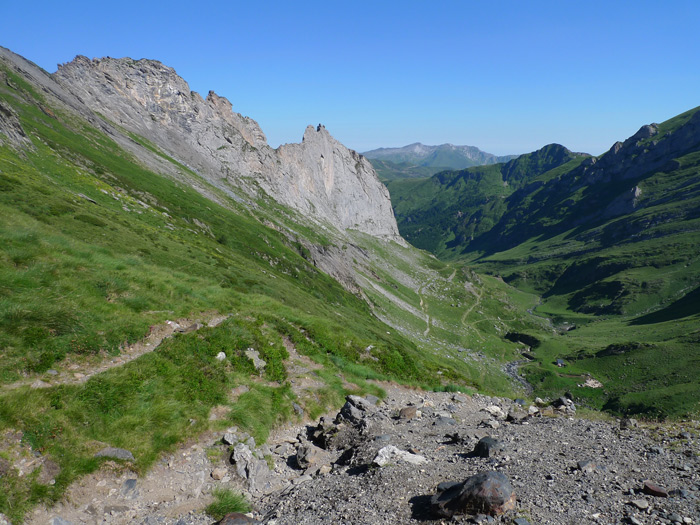 It was all most crowded with day-hikers on our way down. We have chosen a very popular place to sleep last night. Understandable.
On our way down we came by a farmer that sold some cheese, lovely as usual and we just had to buy some. We had some lunch and some refreshing foot-bath in the stream.
We soon reach a ski-resort where our plan was to end this day. But where both very eager to leave as soon as possible as it was a not a place we wanted to stay. And luckily it was early in the day so as soon as we had booked our train-tickets from Tarbe to Paris we continued on the next etap on GR10 towards Arrens-Marsous.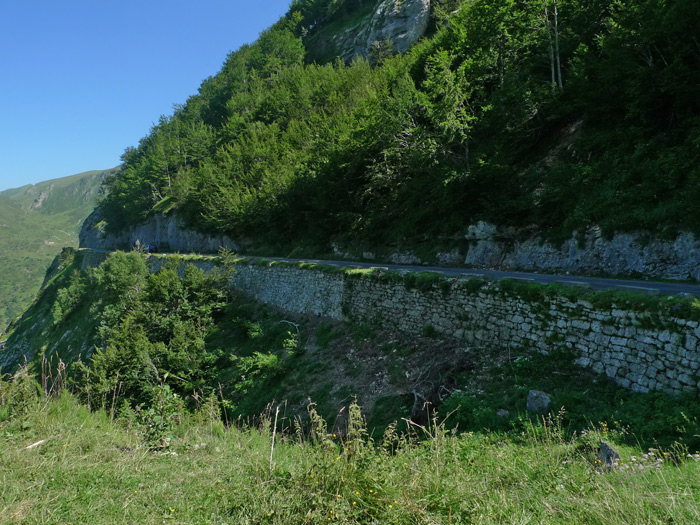 The climb up from the ski-resort was really thought as it was really hot. It wasn't the best time of the day to do this climb. But there was nothing that could make us turn back so we continued.
After a few hours we reached the road. It started to be late in the afternoon and most of the trail would be on this road so we desided to hitch-hike the last part.
A your french non-english-speaking guy picked us up. He was very sweet and took us the whole way to the gite. The stills amaze us how nice everyone up here in the mountain have treated us. We believe they like hikers and that they are very proud of their mountains.
The gite was a very nice place to stay. We took a double room, with our own shower.
There was still time before dinner so we took a walk in the village. It felt bit sad, this was our last hiking-day for this time. But we soon became very happy as when we turn around a corner we bumped in to Herman and Frank. They had also changed their plan and we where all happy that we made the same plan to end in this village. It also turn out that they where staying at the same place as us, so we had a really nice dinner together.
Before going to bed we took a short walk through the village.
Arrens-Marsous
We had breakfast with our friends, and took a last good buy. But we think and hope that we will rejoin with the some day on a hike in some other mountains.
We decided to stay one more night before we left the mountain to head home.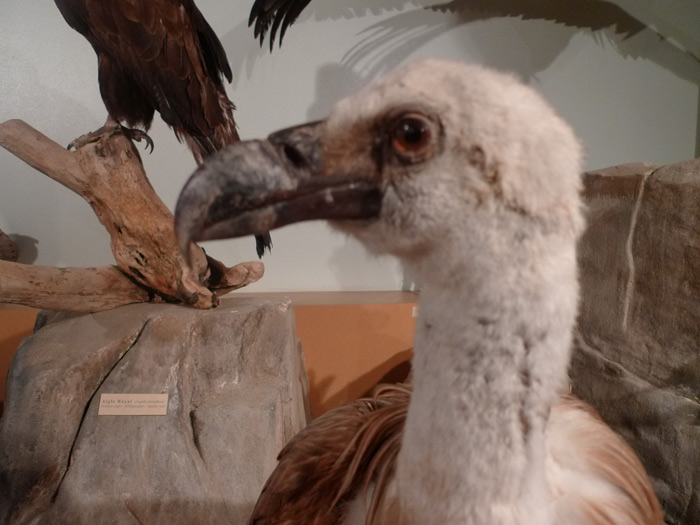 We bought some goat cheese and Mediran wine and had a really nice lunch at the slop close to the swimingpool. After lunch we had some siesta.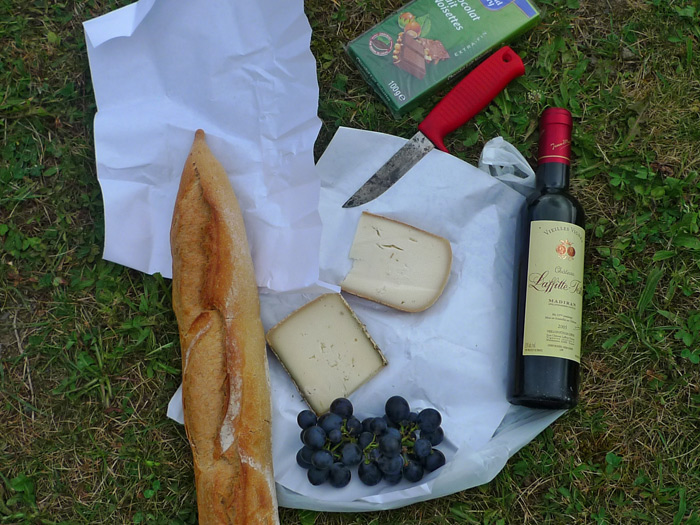 In the afternoon we took a walk in the village and found a sanatorium with a church with a lot of strange but interesting decorations. We made some nice shoping to bring home with us, some wine, foix gra and cheese jam.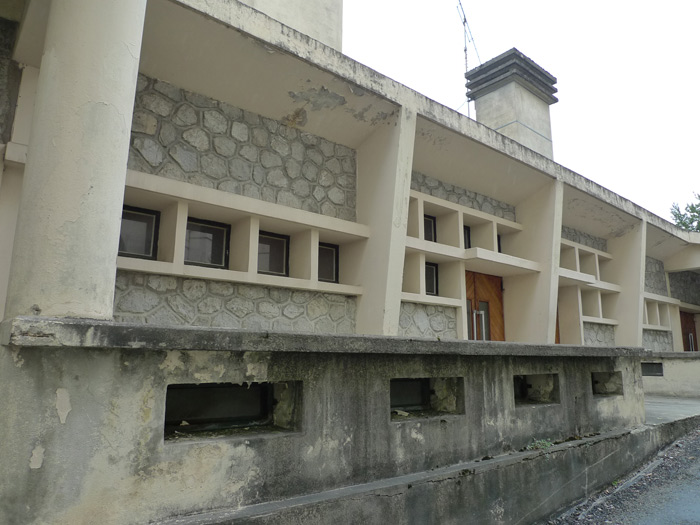 At the bar, we had a drink of Rikard before going back to the gite and having the last gite dinner. We meet some we had meet before but not talked to so much before, one women and two men from France Wales and England. They where really nice and they have meet once a year for a long time to hike in the mountains.
We had a drink with them and went late to bed, at 11, late at least when hiking in the mountain.
The next day our way back home started, we went to Tarbes and took the night train to Paris.