The Pyrenees 2009: Day 9
Etsaut  – Lacs d'Ayous

We woke up early and left Etsaut at eight o'clock. We came up to Chemin de la Mature, a long narrow path, on one side there was a vertical steep slope and on the other a wall of rock. It was a bit thrilling and exciting to walk their. The path continued upwards for an hour.
We walked in some forest and at a bridge where we met Frank and Herman again. We continued together. After a while we came up to a valley and out of the forest.
At the Cabane de la Braigt de Sencours we stopped for lunch. Frank and Herman took a bath in the cold spring. We only dared dipping our feet's. It was refreshing but biting cold. We ate some pasta salad we had prepared the evening before.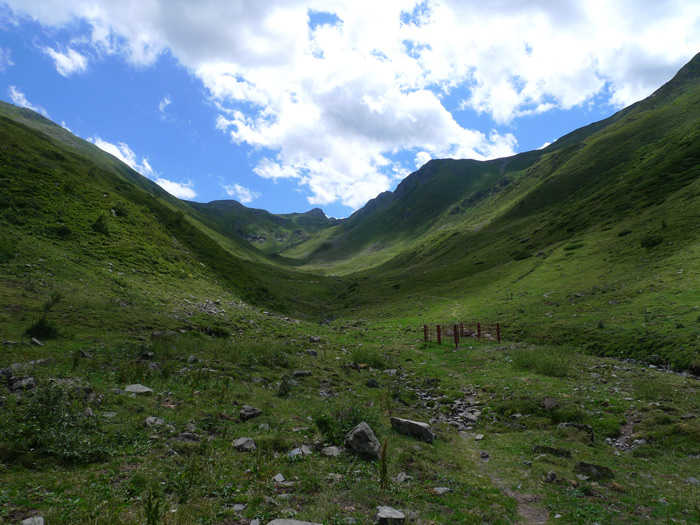 The hike continued upward into a fantastic valley with cows and a lot of flowers.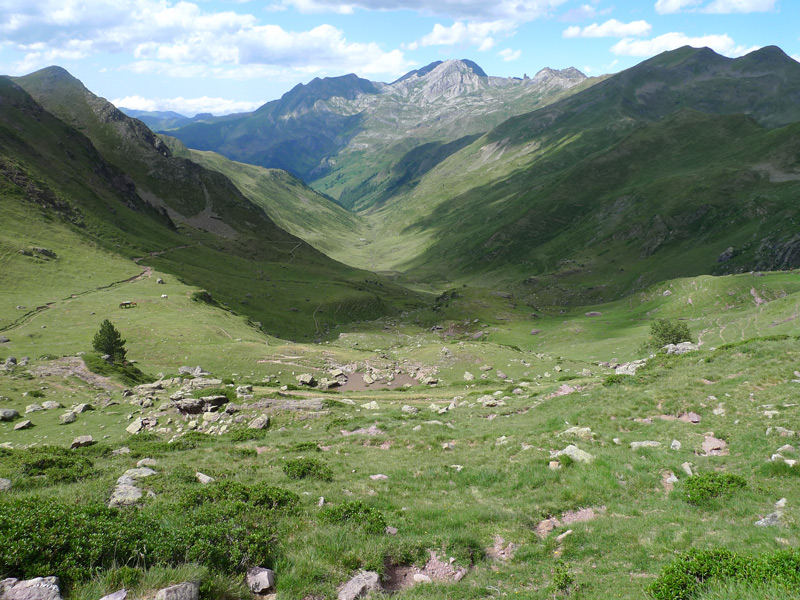 Looking down at the valley we had walked in for some hours and where about to leave

After some hours of climbing we came up to Col d´Ayous. This day we started at 650 m and climbed up to 2185 m. It was tough but worth every step as you pass through a fantastic landscape and on the top the view is magnificent, down below on the other side you could see the lake Lac d´Ayous.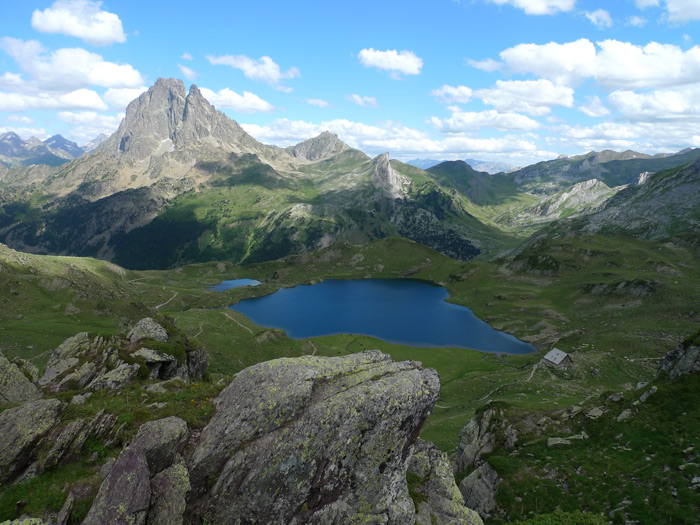 The gite at the Lac d´Ayous and Pic du Midi
We started to climb down to the gite at the Lac d´Ayous. Annas knees where really hurting so she climbed down very slowly. We definatly had realized by this time that next hike in the mountains we would use walking sticks.
Even though the gite was big, 70 places, it was almost full. There was only two more beds and we let Frank and Herman take them. We found a nice place for our tent with an fantastic view over the lake.
We made some dinner, couscous and vegetables.
After dinner we took a walk together around the lake. It was a beautiful evening. Down below in the valley we could see the clouds but over our heads we had clear sky. We looked at the sunset and went to bed.
When being in this kind of place, high up in the mountain with a clear sky we recommend to wake up in the middle of the night and take a look at the sky with all the stars. It is indescribably amazing and totally worth a break in the valuable sleep.