The Pyrenees 2009 – Day 11
Gabas–Lac d'Anglas
We woke up early and had breakfast at the gite. The sun was shining so we were happy that the bad weather was gone. We managed to buy some frozen bread and some pasta. We were packed and ready to leave at 8 am.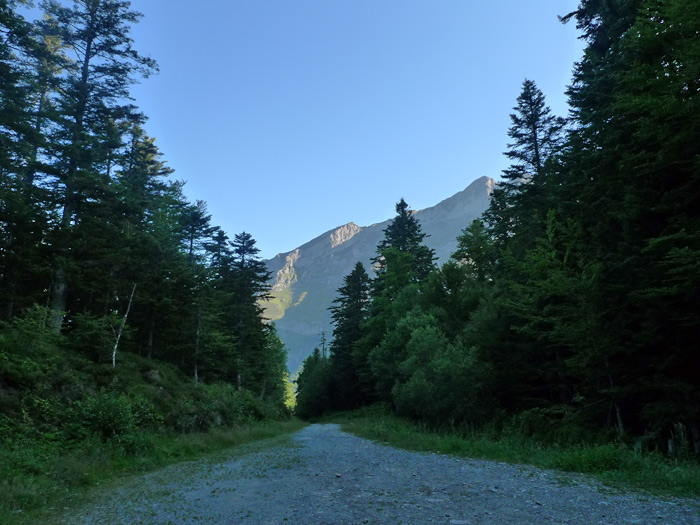 The etap was calculated for 8-10 hours so we were planing to camp along the way as we didn't believe we would finish it. The day started very beautifully going up through a forest almost like in a fairytale.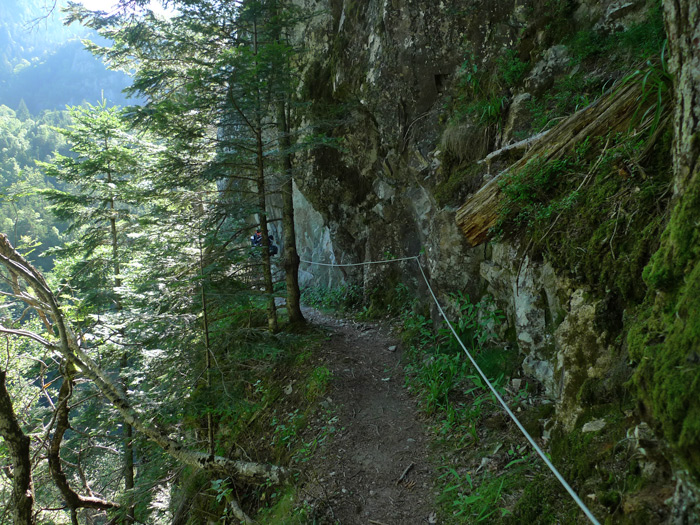 Some parts where a bit scary as the path was very narrow and steep. But on most places you could hold on to a rope. We also had to climb over a big old tree laying over the path.
Midway we past a nice waterfall and we continued upwards. At some places the path looked like an old cobble-stone stairs and you could imagine all the hard work behind it.
After like 2-3 hours we came out of the wood and for a while the ground under our feet, levelled off. We past a lot of flowers, Iris and Lilium martagon.
We stopped for lunch, lovely cheese and bread. It started to get very hot and we were running out of water. Not a good combination. At a creek we filled up with water and for the first time we used one of the Micropur tablets to disinfects clear water and destroy bacteria, amoebas and viruses to make it drinkable.
We started to go upwards again, on a gravelly bad path that on some places was quite slippery. So we had to climb carefully. At this point, almost illusory, we met three teenagers leaping down the mountain dressed in white clouths. They didn't carry anything, it felt very strange since this place was quite remote from anything else. Were did they come from?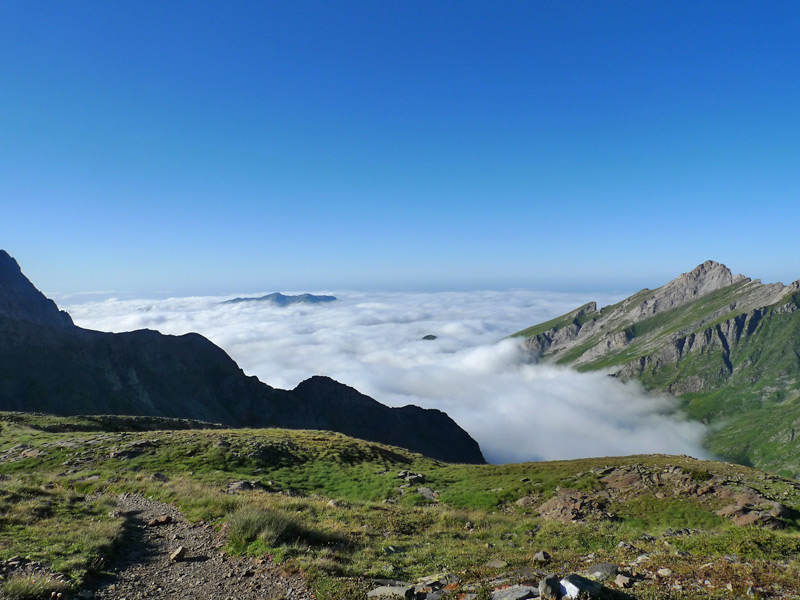 We came up to a nice place, suitable for a camp-site. We sat down and had something to eat while we where discussing if we should continue or not. The time was five o'clock in the afternoon. We knew that it would be at least a couple of hours before the next good campsite and that we first had to climb to the top and then down again to a lake. We rememberd that our Dutch friends had planed to camp at the lake and the idea of joining them made us continue.
We filled up with new fresh and good tasting water and started the climb. It was a heavy (300-400 m) and hot climb for about an hour.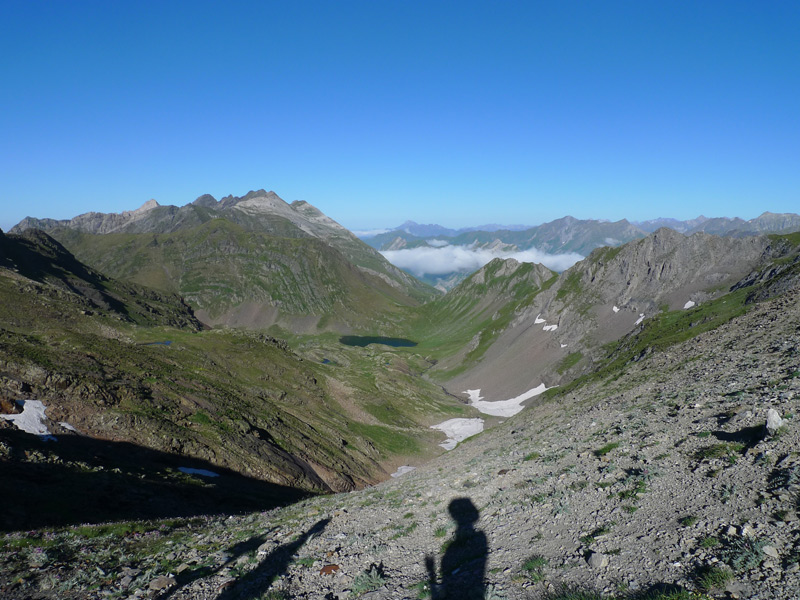 We reached the top and it was magnificent. Up there the wind was fresh and chilly.  We took some pictures and started our climb down on the other side. We past an old shelter, that could be used if you got stuck in bad weather. We continued and after a while we saw, deep below us, the lake, Lac d'Anglas, our final destination for the day. We detects our friends with our binoculars and after a while they also saw us and waved. It is a steep climb for an hour to get to them.
At 8 pm we reached the lake and our friends, they served us tea and were happy to see us. We made a very late dinner and Yrr also made some strawberry compott for desert. It was a really nice evening.
We said good night to the guys and before we went to bed we shared a mini bottle of Baileys outside our tent while looking at the sky and the stars. The night wass a bit windy which kept us awake för some time.