Day 28: 3 July, refuge Alfred Wills to refuge Alfred Wills
We woke up, the rain was poring down and it was really windy, we stayed in bed for a couple of hours and did some writings and readings. Around nine o'clock we went down to the breakfast room. We had breakfast with David, Jonas and Jack we had met the night before. The rain finally stopped and we decided to continue walking. David joined us.
Looking back at the lovely Refuge Alfred Wills
We started climbing to Lac d'Anterne (2060 m). We saw the lake and we walked along it, there was a lot of snow.
Lac d 'Anterne
After a while we realised we had lost the track, we should have gone on the other side of the lake. Instead of going back we walked around the lake. There were snow all over.
David on his way down
Finally we saw the track, but we decided to continue climbing parallel to the track and to join it further up.
Anna and David reading the map with Lac d'Anterne in behind
Suddenly the fog came, it came from nowhere and in a really short time we didn't see anything. We were standing  on a grass "island" in the snow waiting for the fog to come down. It only gat worse and it was raining. After a while we heard some people, we started shouting and suddenly Jack and Jonas appeared out of the fog.They where on their way back because of the fog. They led us to the track, which was only a view meters away. We sterted walking back to the refuge together but after a while we met a group of french people, they had gps and were on there way up to Col d' Anterne.
We all decided to join them. We walked up again but after about 40 minuets we lost the track it was hidden in the snow. The gps didn't work. Everything was white!
We all walked back to the refuge.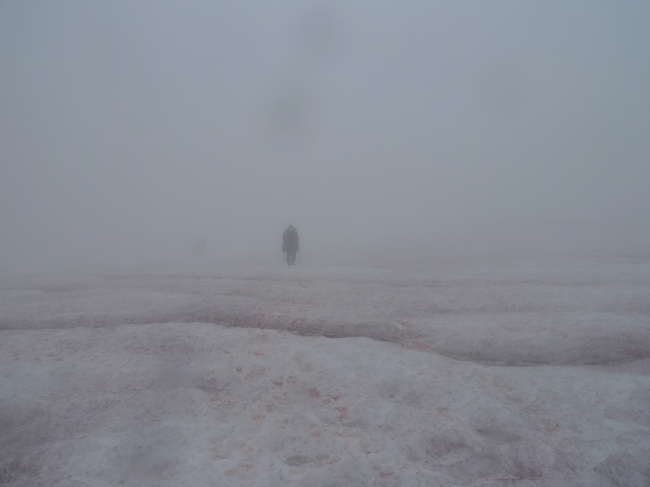 We did 6 hours of hiking without food and a break. We were really tired when we came back to the refuge. We sat down in the warm and nice dining room, talked and relaxed.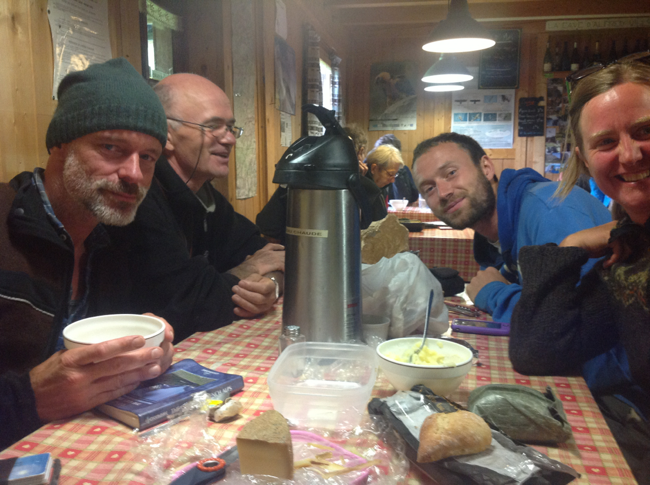 David, Jonas, Jack and Anna relaxing in the refuge
In a couple of hours we were served cheese fondue, it tasted good, we were really hungry. After dinner we went to sleep, hoping for a better weather the next day. It was a difficult day, but it was also exciting and we had fun!