The Pyrenees 2009: Day 5
Ste-Engrâce– Arette La Pierre St Martin
We got up at 7.15am. It took some time to make breakfast and take down our tent, a rather late start, 9.15. But we knew this would be a rather short day.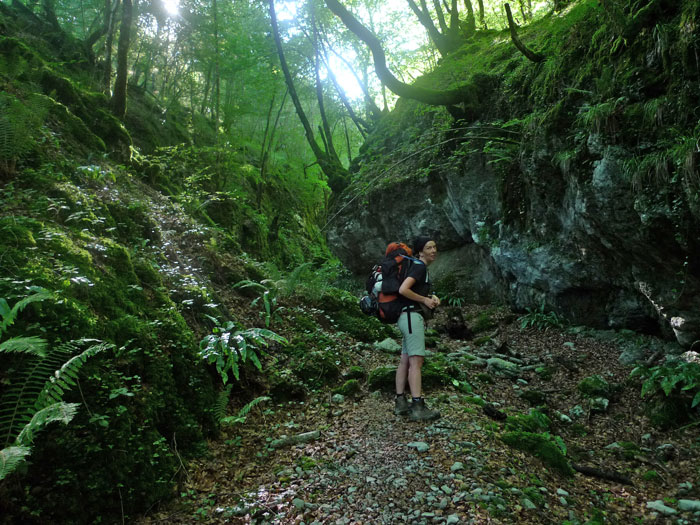 The first climb was tough, about two hours through a forest. It was nice to come up above the trees.
We sat down and had our lunch. Two guys, Harmen and Frank, with whom we later became very good friends with, were drying their tent behind a ruin. We said hi to them. Two English guys passed us, they stopped and talked to us before continuing.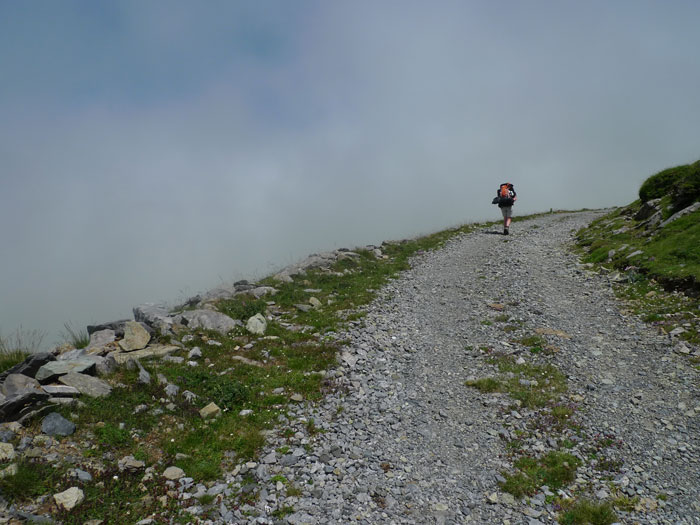 We continued upwards, it was heavy and the track was going in wide zigzags, sometimes we took short cuts, which is quicker but harder. Further up it started to be mistier. It's not so good up in the mountains as you easily can lose the track and get lost. But as we followed a small road we felt safe and continued. Further up as it got dryer and also rougher we noticed that the flora had changed. At the top (1780 metre) we got totally new views over a landscape with limestone and pine, a landscape that got us thinking about the Wild West. We also realized we were looking at Spain.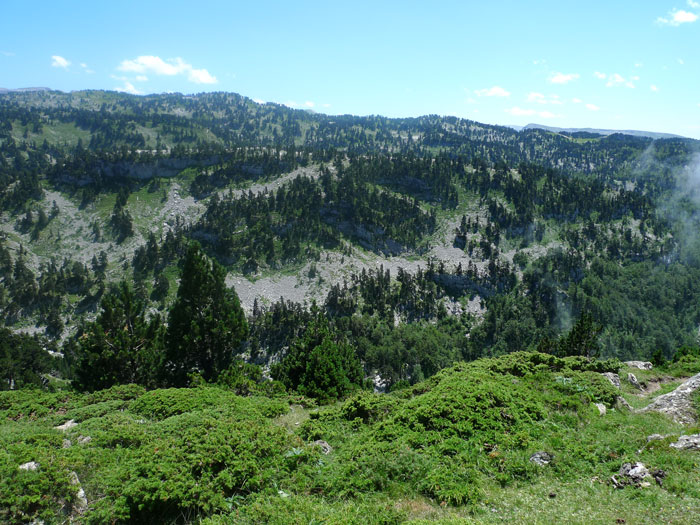 Another landscape – another country (Spain)
We continued down and passed a farmer house where we bought some more cheese. Their house was full of annoying flies but the cheese was lovely.
Later on we came down to a car-park, on the side we looked down into a big deep cleft filed with loud crows but also a lot of blue flowering Aquilegia. We followed a boring asphalt road for a while before it turned back into a nice trail again. When we reached the top of a small hill we got a bit surprised to see an ugly ski resort in the middle of this nice landscape. The gite was located just besides this place. Happily we managed to ignore the ski resort; maybe it was the nice surroundings that made us somehow neglect the resort.
The guide book mentions the owner of the gite and describes him as a joker, and we can just agree to that!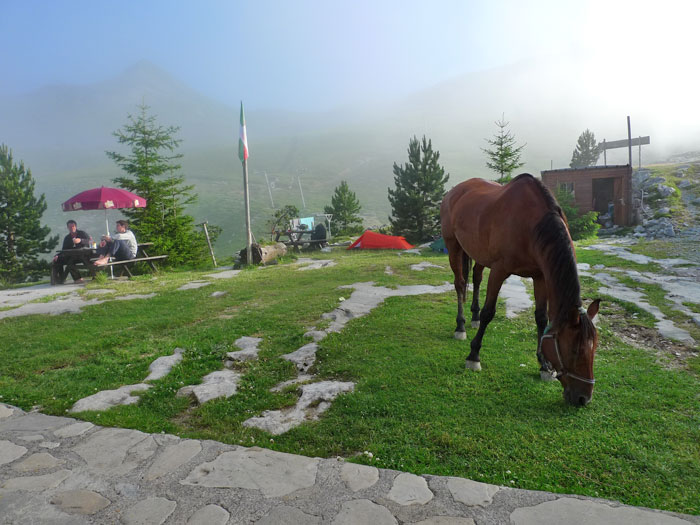 For once we arrived early, at 4 pm. The "military" were of course already there; unfortunately the male had been drinking some unclean water and was sick. One of the doctors we'd met earlier helped him. We started to talk with the two guys, Harmen and Frank that were drying their tent earlier. They came from The Netherlands and where following the GR10 to botanize. Frank was a biologist and had been studying in Sweden for half a year and he spoke quite good Swedish and he knew plenty of flowers by their Swedish name.
After taking a shower we made a short walk down to the store to buy some supplies. The resort was a bit spooky as it was quite deserted in this time of the year. Back at the gite we sat down outside the house in the sun and the shifting mist.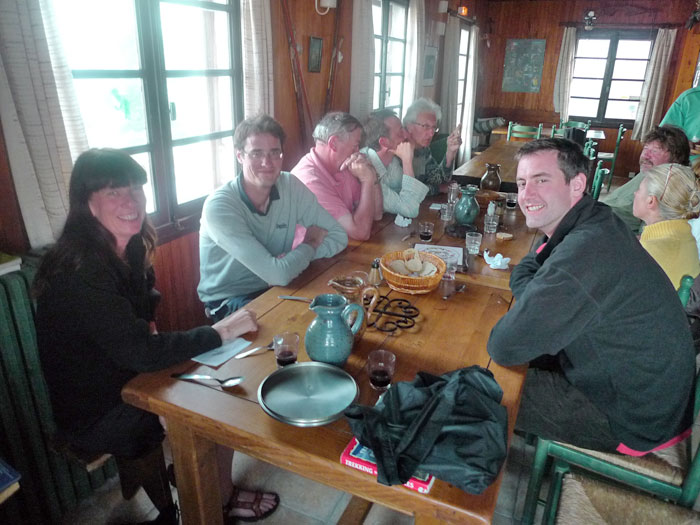 At seven it was time for dinner, duck with pasta, really tasty. We sat together with the two nice British guys we had met at lunch. After dinner we went outside again and talked some more with our new friends from Holland before it was time to go to bed.