The Pyrenees 2009: Day 6
Arette La Pierre St Martin – Lescun
Ýrr went to the store in the ugly ski resort to buy some bread. We ate breakfast outside the gite and we started to walk around 9 am. Pretty soon we caught up with Herman and Frank (the dutch guys) and we started to walk together. We really enjoyed their company, they showed us all the flowers they found on the mountain. We saw among many things Black Vanilla Orchid, Nigritella Nigra and some Alpine Rose, Rhododendron ferrugineum.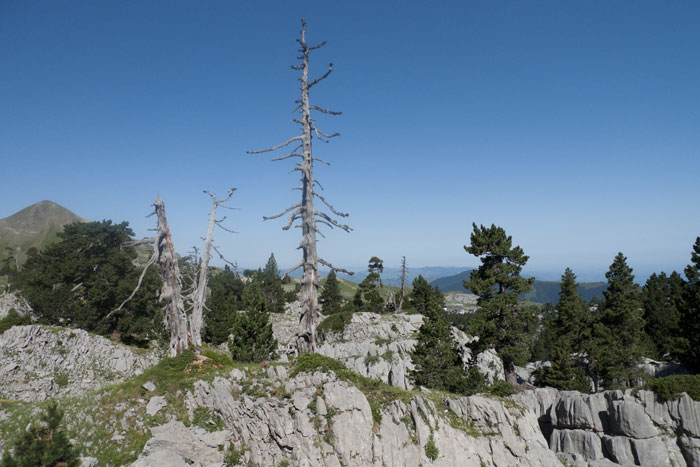 It was a barren and a beautiful landscape, it was not so exhausting but a little scary since it was steep. At one place, Pas d'Azuns (1873 m) we had to climb up 5 meters between two tops, it was terrible! it was a bit scary. There was one tiny rope to hold on to. Harmen helped us up with our bags, and that made it easier to climb up. We where both very happy that we had their company.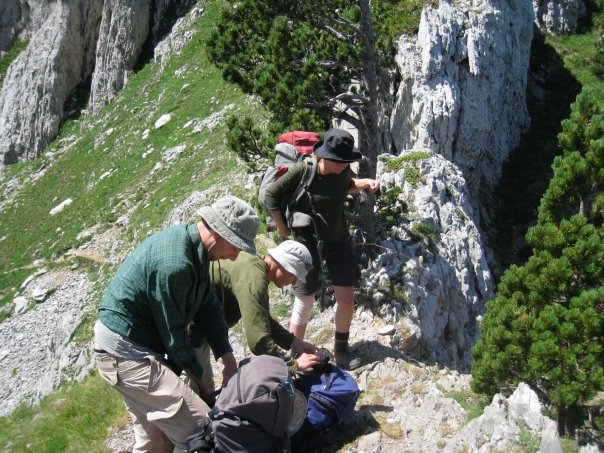 Finally at the top we sat down to rest for a few minutes and looked down into the valley. (it was a bit scary standing on the narrow edge)
A long the way we meet a strong women that was hiking with three teenagers. One of them was tired and whining and refused to walk and carry her own package. So the women had to carry it for her, first taking her own and then walk back for the other bag. And still they almost kept the same speed as us. But off course we where walking slow as we stopped every now and then to look at flowers.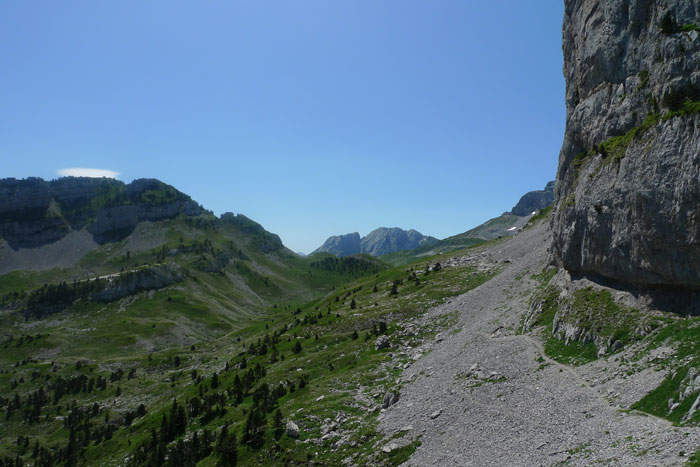 We started our way down.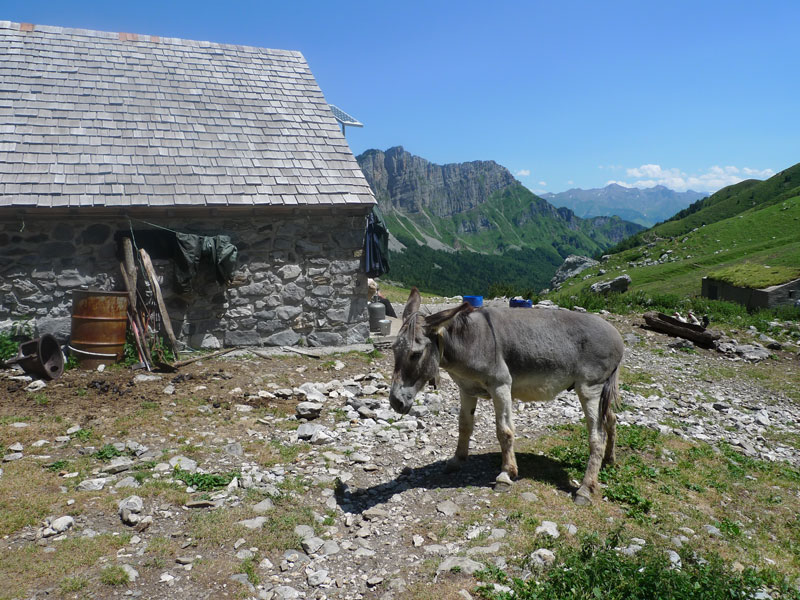 We arrived to a little farmers house with some donkeys and cows, Gabane du cap de la Braigt. Donkeys, cows and sheep's where walking freely around the house. They also sold cheese but we still had some left. There was no road up to the house, the last part was only a narrow path. We decided to take a lunch break and cool down our feet's in the cold water stream from the mountain.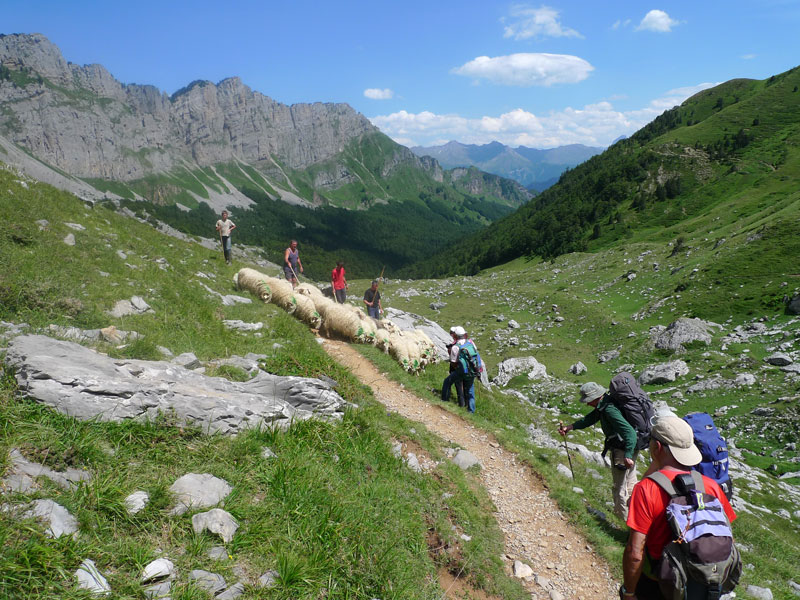 We had heard that it was supposed to be thunder later in the afternoon. So we decided not to stay to long at this nice place as you can easily get trapped in the mountain.
We walked down the valley and soon came in to a forest. After a while the path became a road. In a ditch we met the "militaries" for the last time. The man was still very weak after the bad water and now they where waiting for there ride home. We took farewell and continued. The last part we past through a green tunnel of leaves (this green tunnels are very common closed to villages in this area).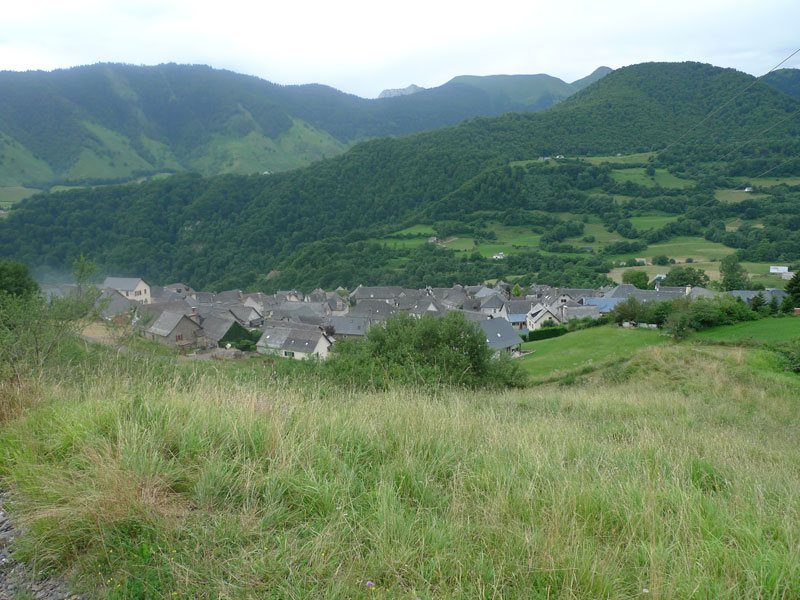 In the outskirts of Lescun we past a nice guy cutting his hedge, he invited us for some drinks in his garden.  Afterwards he walked us to the gite.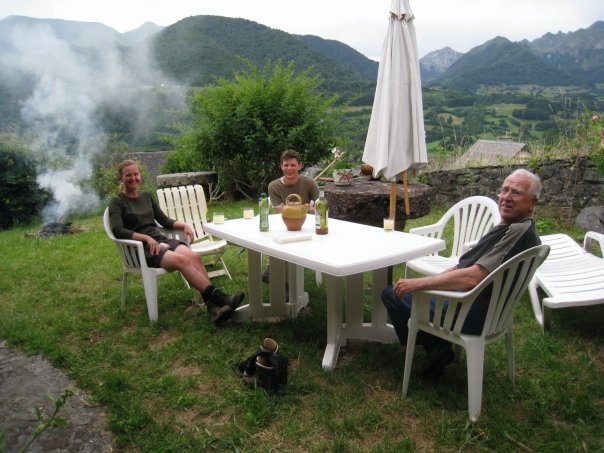 The gite was nice, we had some dinner at a restaurant together with our dear friends and the two British guys. The chicken tasted more wild than at home.
We all where very tired, our legs where swollen and we decided to take a resting day the next day. And Lescun was the perfect place for that.