Day 69: 17 August, Esterate to CAI bivaccio Pianodel Praiet
The tent was soaking wet when we woke up, not from rain, moister from the night. Sometimes we are lucky to have early sun that quickly drys our tent, but not this morning, we where too deep down in the valley so the sun wouldn't rich us for a long time. We had to pack down it as it was and try to dry it later.
Looking out over the three tops
We left and started, first following the path upwards in the forest and turning down again after a while. The track was really bad on some places, sharp metal sticks (armeringsjärn in Swedish) was sticking up from the ground, remains from old support of the track. They where hard to see so you really had to walk carefully to avoid them. Further down you could see that they had started to renovate the trail.
The last part before entering the valley was quite steep. We followed a stream up to a restaurant, campsite and refuge. A quite popular place as you could reach it with a car. We manage to buy some salt from a sweet girl in the restaurant. We ate our lunch and continued our walk up into a valley.
Walking in the valley
It was the time of the day when it is the hottest, we walked slowly until we reached the Rifugio Soria-Ellena. Down below the refuge there is a C.A.I bivaccio, we decided to stay there. It was very simple with six beds. On the wall we could read that it was over hundred years old.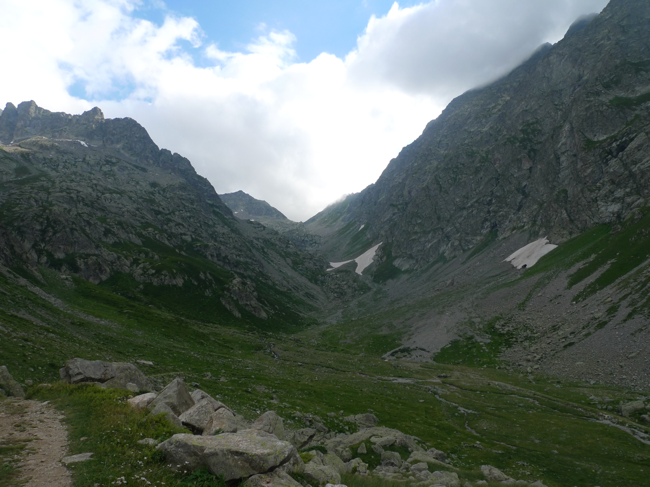 A view from the bivaccio, a trail to Colle Finnestra and the French border, not far from where we have walked just a couple of weeks ago, nice feeling!
We washed ourselves and our clothes in the cold stream. It was to early to make dinner so we went up to the Rifugio and had some wine. It was a really nice and friendly place.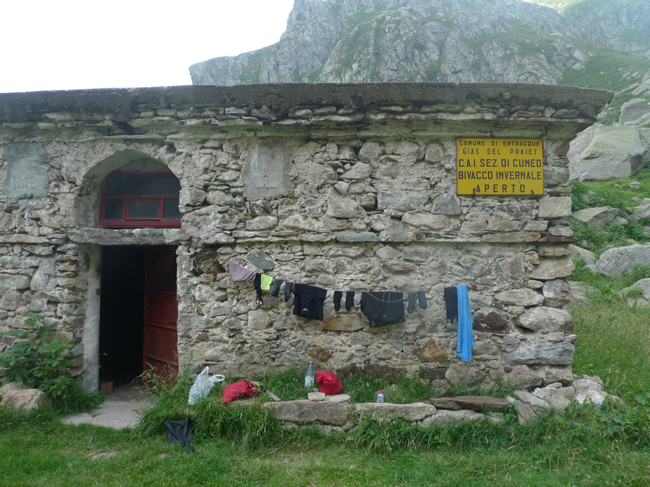 Our clothes hanging to dry outside of the bivaccio
We made dinner outside of the shelter, rise with vegetable and coconut milk and drank up the wine we brought with us from the Rifugio.
Our plan was to set up our tent outside of the shelter but as we had forgot all about drying the tent during the day we had to sleep inside the shelter.