Day 68: 16 August, Palanfrè to Esterate
We ate breakfast at the gite, classical Italian gite breakfast, white bread and jam, doesn't do much for your stomach. The weather was better than the day before. It was cloudy but quite warm. We started climbing to the top Colle della Garbella 2170m. It was almost 1000m climb. We stopped after about 1,5 hour to eat second breakfast, some bread an cheese. The weather was really dramatic sometimes we saw nothing, just the fog and sometimes the sun was shining. The clouds had all different kind of grey colours.
We came to the top and we walked along the mountain top for a while, it was beautiful even if we didn't have clear view.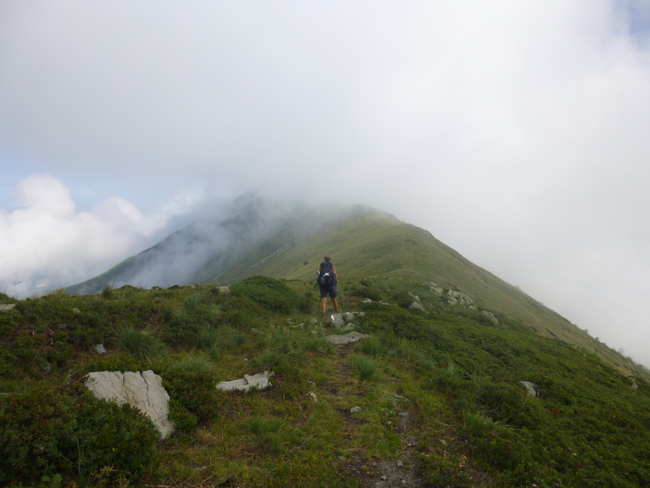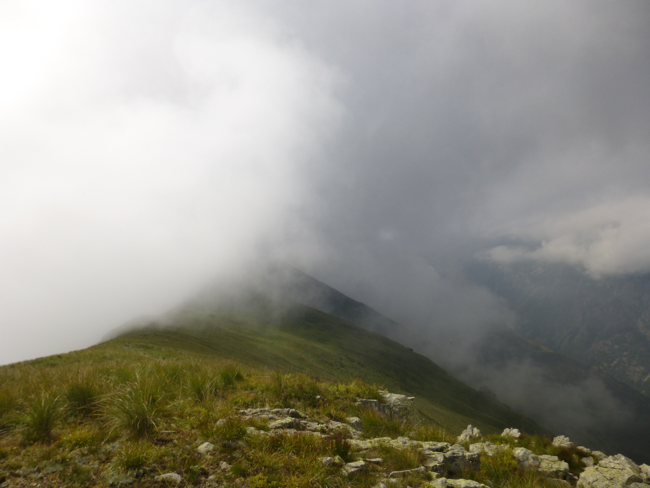 The track turned down to Trinitá (1091m) it was a nice changing landscape with rocks, beech forest and a river.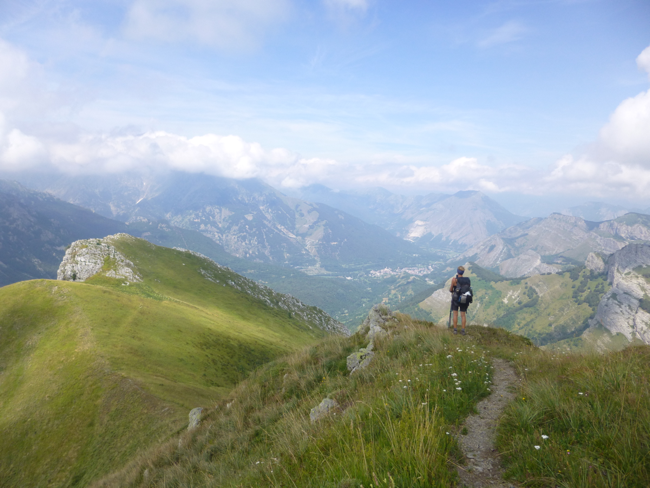 Anna taking looking atvthe view, before climbing down
We had lunch a little before we came to Trinetá, it was the end of the etappe. We decided to continue further and find a place to put up a tent. We started by climbing up about 300 m in a forest. Then we walked down on a road to Esterate it was not the most fun walk on this trip, the road became paved and went on for a about an hour. We filled our water bottles in Esterate ( only one big house and a chapel) and continued by going up on the road. It was not easy to find a place to camp since there where a road, houses and dark forest. But finally we found a open place in the forest hidden from the road. Not the best camping spot we've had but it was ok and there was a lot of blueberries and some wild strawberries and hallon! Anna picked berries while I made dinner, risotto. We ate before we put up the tent and then we had delicious desert, fresh berries!
The desert
We went into the tent early to write and read. Suddenly we heard a sound of someone moving around outside the tent. We peaked out of the tent but didn't see anyone. I mooved quietly out and looked around. Suddenly I saw wild boars just a couple of meters away. I went back into the tent and we started talking loud to scare them away. We succeeded and slept like babies the whole night.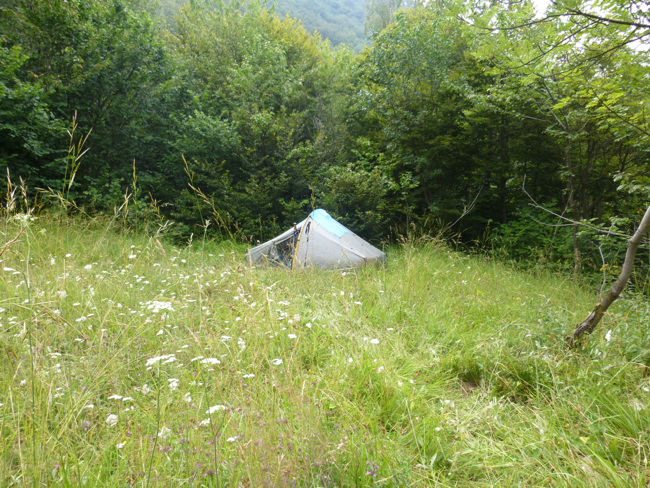 The tent