Day 67: 15 August, Limonetto to Palanfre
15th of August is a holiday in Italy and we where warned that it might be crowded in the refuges as it is a popular day to hike. But when we woke up the weather was still a bit unstable, no rain but foggy so we where not so worried. Before leaving we dried the tent, we only had about five hours walk so we could have a slow morning.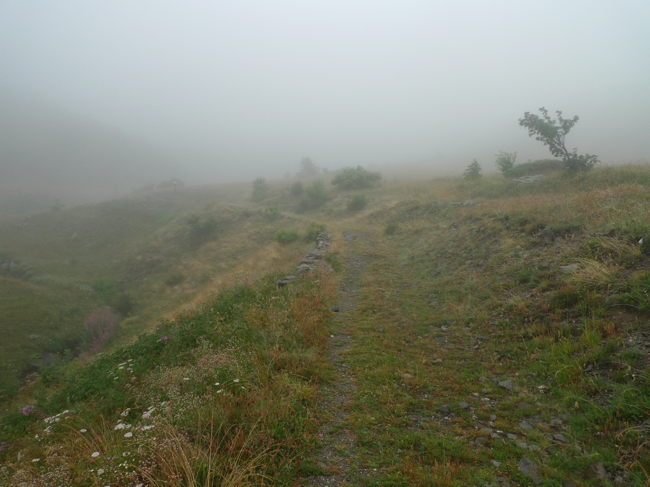 At ten we where ready to leave. It was less foggy but as soon as we came up a little bit we start walking in the clouds, it was a bit moister.
The climbed up to Passo di ciotto Mieu, 2274. It took us about 2.30 hours, the track was at some parts very step and stony. On some places we walked on grassy lanes with white stones on the side, supposly some old trail marks. The trail up to the pass was very well marked, probably to make sure no one loose the track in heavy fog.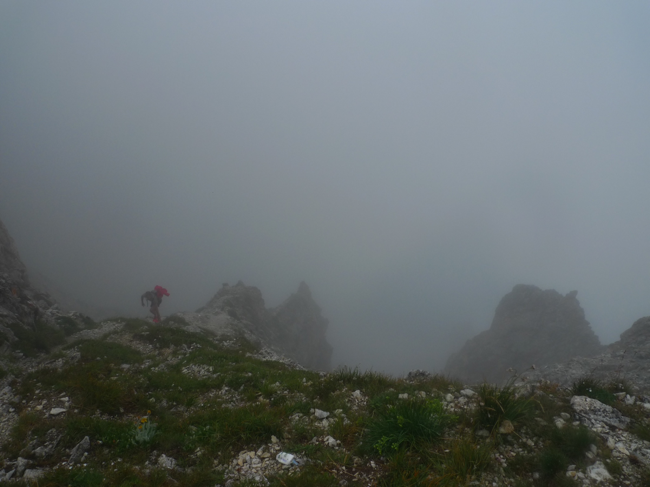 Looking down at the Passo di ciotto Mieu
Now and then the sun was shining through the clouds.
On the top it was very windy and we where still in the clouds. We met two Italian runners, and we got some weather report, cloudy but probably not much rain for the next coming days.
The first part on the other side was very very steep. We all most had to climb down. We took it slow, it became better after a while and we could walk more normal, slippery though as the track was filled with small stones.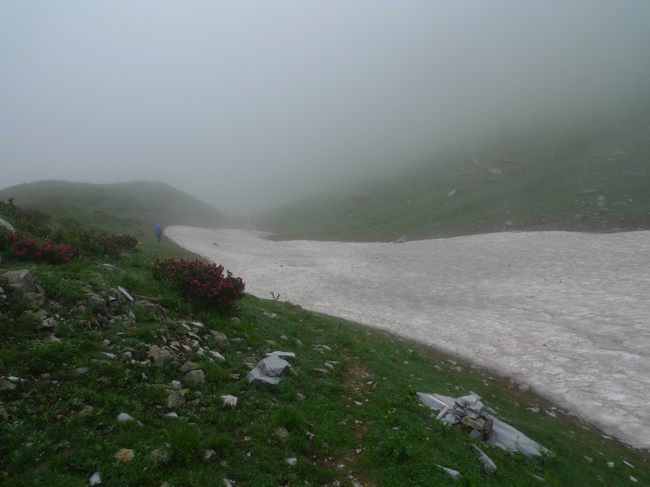 We past a small lake. When we came down to a valley we finally we left the cloud and the sight was much clearer.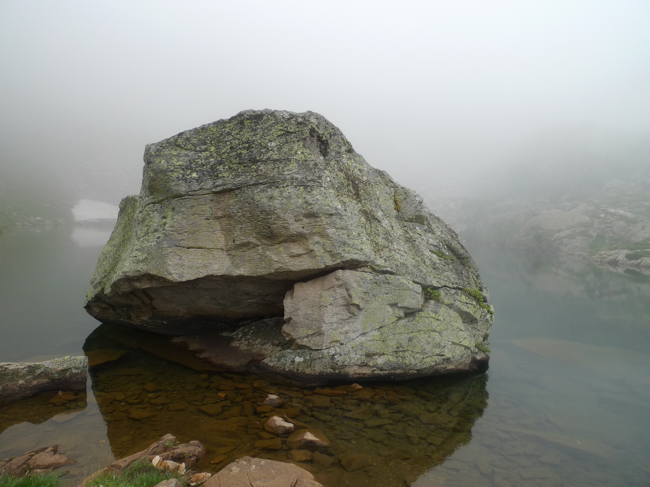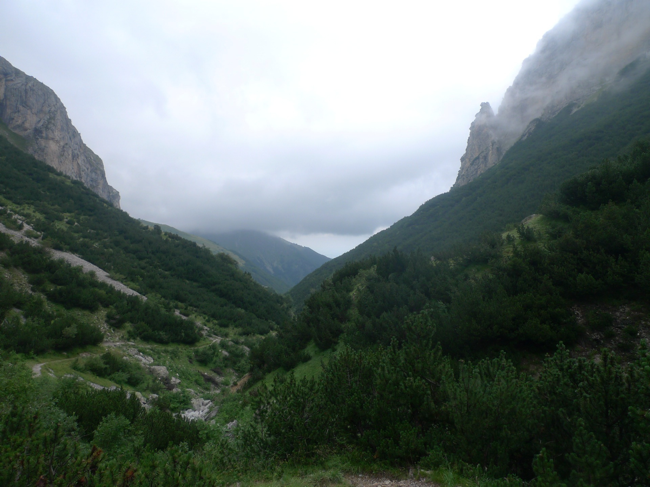 Finally under the cloud
On one spot we could see some flat land between some mountain. We realized we had not seen this since we walked in Alsace, like two month ago. Even though we had been down on 0 meter in Menton, we had still been surrounded by mountains.
Before reaching Palanfre we came in to a forest and we also entering the National park for a short while, Parco Naturale delle Alpi Marittime.
The village Palanfre was small and very nice, it seemed very popular. We found a fromageria and of course we had to stop and buy some cheese. We bought some old Riccotta, it tasted very nice.
We walked to the Locanda del Parco, they had room for us that we shared with a German. We did our routines and rested before the dinner.
We had a nice dinner. Nice salad, pasta with spinache and a lovely choclate dessert. we had a mice conversation with our room mate. She also followed the GTA track but opposite direction. She gave us some camping tips.
As all other evening we went to bed really early.