Day 3
Rifugio Fanes – Rifugio Dibona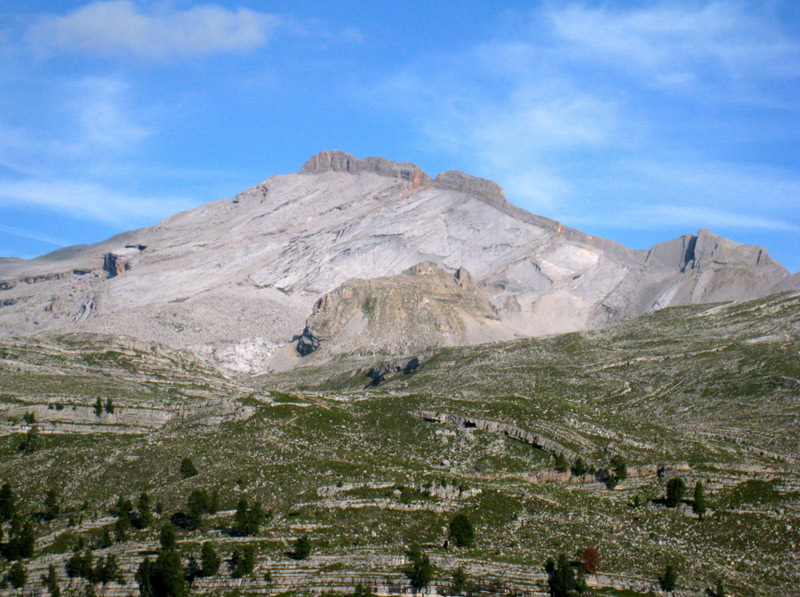 The Mountain Dinosaur early in the morning

Day 3 started with a lovely breakfast at the Rifuge. They served us a wonderful yogurt with honey and we where both happy as children and didn't save much for the the other guests. We also got some nice homemade bread. We talked a little to two other guests from Rosenthal.
We where packed and ready to leave at 7.30. On our way up our first climb we met one German women with her 10 year old daughter (Regina and Marie). We chatted a bit with them, they where also following Alta Via 1. But unfortunately after this we lost them and we didn't meet them until the end of our hike. But more about that later.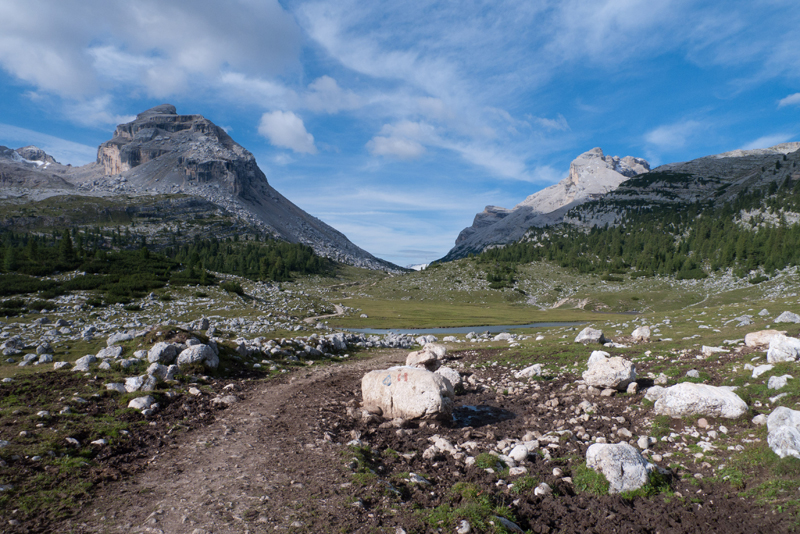 After 15 min climb we came up to a green valley with a lot of rocks and marmots.

The marmots are curious but it is hard to get a close photo of them.
We tried to get some nice images of the marmots, but that isn't an easy task.
The view was always beautiful, but this day was something extra. We saw Marmolada, a glacier with the highest point of the Dolomites (3 400m) Ýrr was really enjoying it since she is used to look at it from the other side during the skiing season.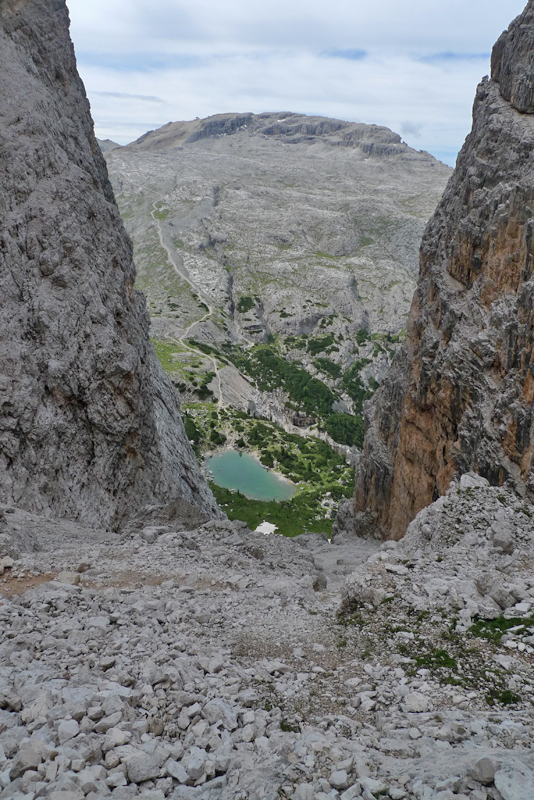 At the end of the valley we started to climb up towards a cleft in the mountain. It took us about twenty minutes to reach it and on the other side the cleft was really steep (but not difficult). At the bottom we could see the lake Lago di Lagazoui and we could with our eyes follow the alta via path all the way to the next rifuge, Rif Lagazoui. The stones on the ground were white and the cliff walls were red. It was breathtaking!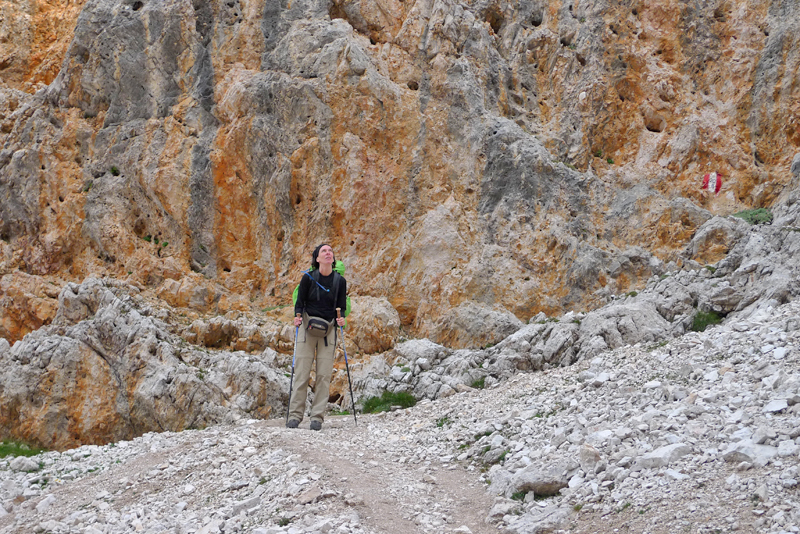 Ýrr on her way down in the cleft

With our new friends Riccardo and Stephano
After a short break we meet Riccardo and Stephano again and we continued the walk together with them. We started climbing again towards Rif. Lagazoui. When we got at the top we decided to continue for some more hours to Rif. Dibona.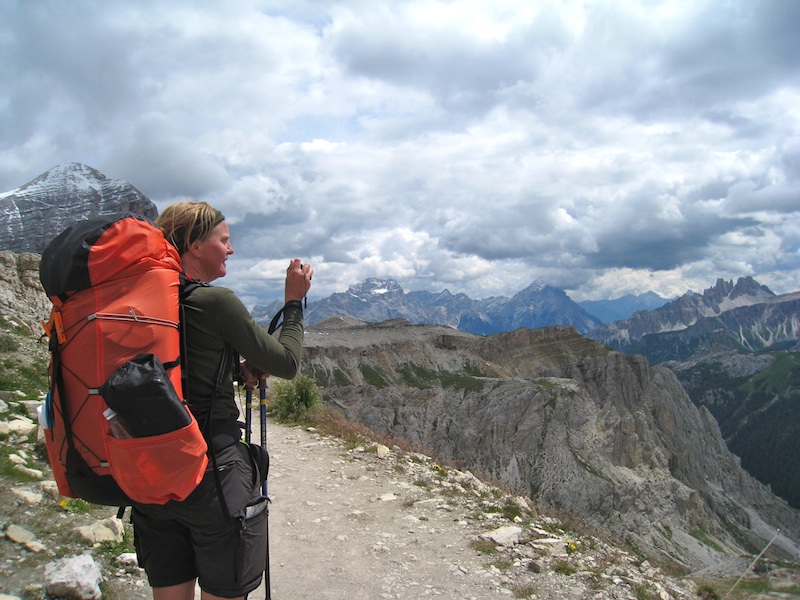 Anna at the top taking picture of the wonderful view.
We were hungry but it started to rain a little so we decided to continue walking.
We walked down towards a new beautiful valley.
The rain stopped and the sun started to shine again. We took a nice lunch break. And then we continued down to Rif. Dibona. We hadn't booked beds and we were a little nervous because it was Saturday night and a lot of the rifuges are full in the weekends. But everything went well and we had a really nice evening at the rifugio. We had Pasta, Polenta, Tiramisu and Apfelstrudel for dinner. After dinner we looked at the sunset and went to bed at 10 o'clock, tired and happy after a long and wonderful day of walking.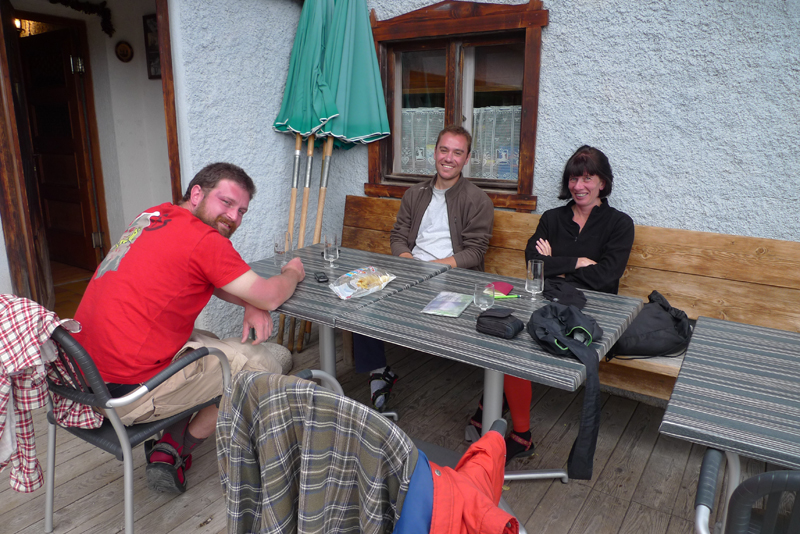 Waiting for dinner at Rif. Dibona