The Pyrenees GR 10
The trail GR 10 runs between Hendaye by the Atlantic ocean and Banyuls-sur-Mer by the Mediterranean ocean on the French side of the Pyrenees. It is divided into three sections the west, the middle and the east.  It takes about five weeks to walk the entire length.  You can choose to  walk only a section depending on how much time you have and what part you are interested in. We decided to start at St-Jean-Pied-de-Port. A lot of people start their walk from there but most of them are on their way to Santiago de Compostela in Spain , making the famous pilgrimage. But we walked in the other direction, following GR10 going west. It was beautiful and alternating. We found it difficult and were always really tired in the evenings, but this was our first longer hike in the mountains and we didn't really know what to expect.  I don't think we would find this as difficult today.
This part of the GR10 is not really touristic, we didn't really meet tourists other than the ones that were doing the GR10. There is a gite (cottage) in the end of every stage were you can sleep. You can also sleep in a tent near the gite but it is also permitted to set up a tent in the wilderness. It's possible to have dinner in the gites, then everybody eats the same food together. The food was really tasty most of the time and it can be a nice social thing to do sometimes. Often there is a kitchen in the gite if you prefer to cook your own food.  If you put your tent outside the gite you pay less but you can still use the facilities. Some nights you spend in small villages where you can buy some food in a store. At some gites you could buy some food like bread, pasta and gas for your stove.
We didn't find the breakfast at the gites appealing, most of the time it was only bread and jam, we made our own breakfast most of the time. You can always buy coffee at the gites, but the quality wasn´t always good. The wine, on the other hand, always tasted good. We really loved  the farm houses we passed quite often on this trip where you can buy cheese.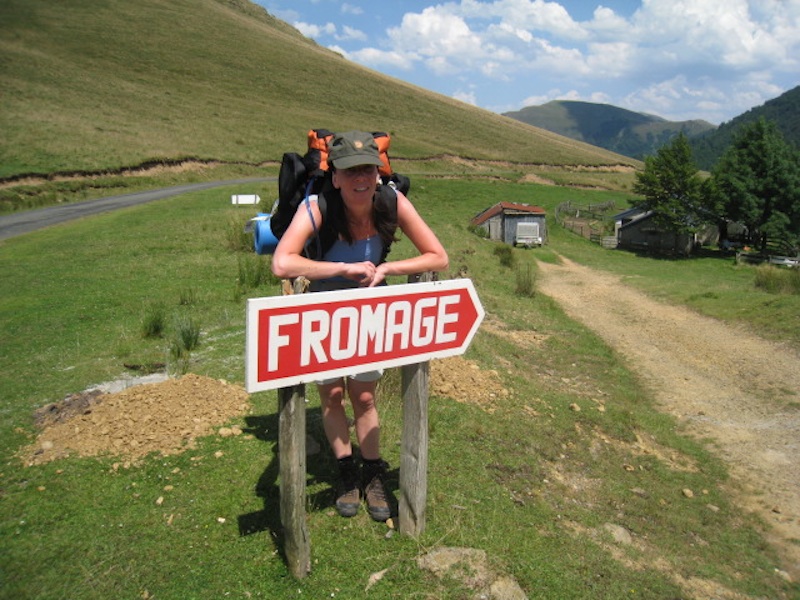 Water was never a problem, there was fresh water everywhere in the gites and we often passed small streams while hiking.
The guidebook we used was Trekking in the Pyrenees
by Douglas Streatfield-James from Trailblazer, we really liked it and we can really recommend it, you find everything you need to know in this book written in a personal way.
More about this trip will soon be out!