Day 76: 26 August, Lago Fiorenze to Rifugio Barant
I woke up, it was clear sky but very cold, I finally had a view of Monviso. Unwillingly I left my warm sleeping bag. The tent was very wet when I packed it but I didn't want to wait for the sun to arrive and dry it.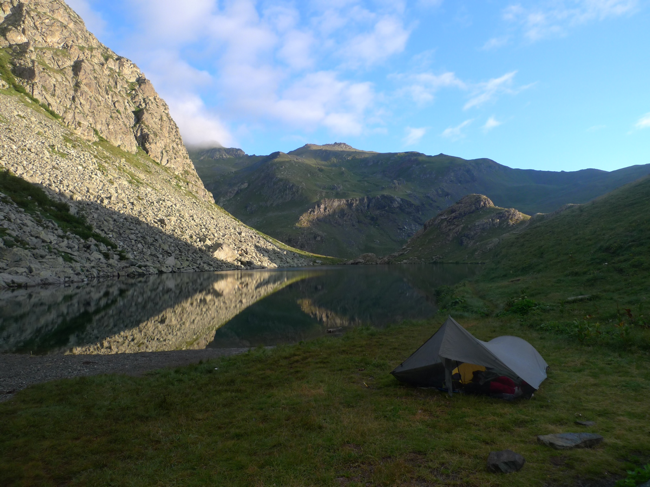 I left the nice camping place and on my way down I meet two nice hikers/climbers from Belgium, who had camped a bit further up.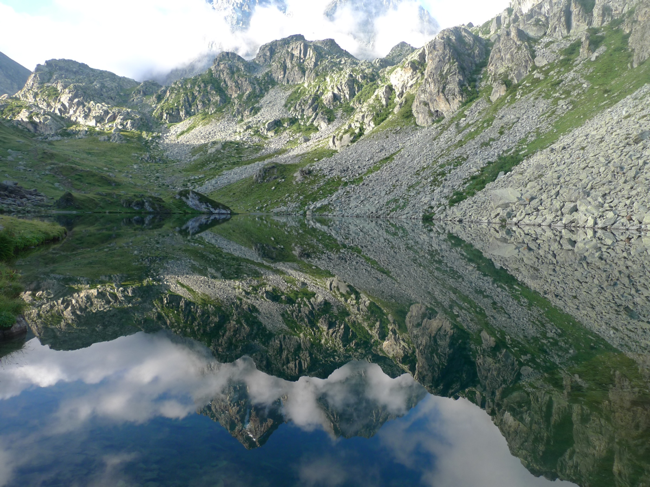 Monviso
Down at the Rifuge Pian del re we had some coffee and tea together. They had done some climbing around Monviso for ten days and this was their last day.
I took farewell and continued north and left the more well visited area around Monviso. I choose to follow another trail, V12, up to the col, as it looked nicer than the GTA. The trail went trough a more green landscape, it was nice to leave the rocky paths for a while. Behind me I could now and then see Monviso through the clouds.
Black salamander
Further up it got cloudy and soon I walked with out views. At the top, Col de Gianna, it was quite cold, so I just had a very quick early lunch, some leftovers from the evening before.
Once again I took another trail as the GTA was longer and seemed not so interesting as the one I took.
I reached the Rifugio Barbara Lowrie, it was still very early in the day and the next Rifuge wasn't that far away. And I also have to say I didn't get a nice impression of the place so I was happy to leave.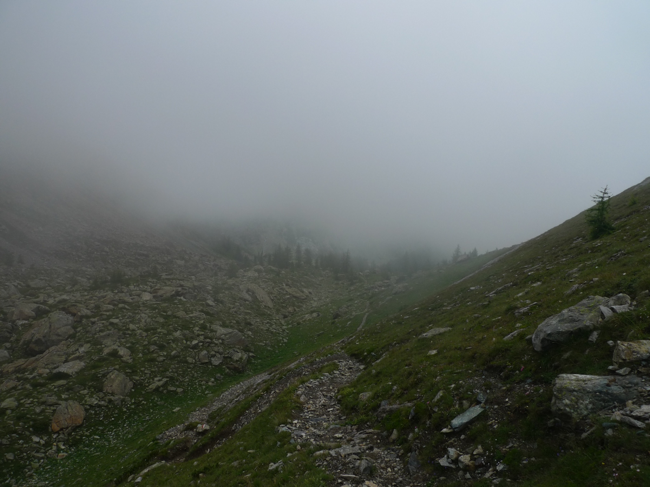 I continued up, followed a small road. I stopped for some bread and cheese on the way. It started to rain and I hoped that the Rifuge was open and not closed as the women at the other place had told me. As I still had not been able to dry the tent I was a bit nervous.
I came up to Barant and found the place open, I was the only guest, strange feeling but I felt welcome. I had a warm shower, hanged my tent up to dry at the fireplace
The owner served me some warm tea while I wrote on the blog. I was felt a bit cold, even though I had all most all my clothes on and there was fire in the room.
As I was the only guest I could decide when I wanted my dinner. Otherwise it is allways on a fixed hour. He made me some really nice food and I had some red wine to it. The food made me stop freezing.
I had an early evening.