Day 61: 5 August, Lac Long to Lac Trecolpas
In the middle of our breakfast two sheep dogs surprised and scared us a bit. They came up to the lake and barked at us. We did as we where told and payed them no noticed and they stopped jelling. Soon we where surrounded by thousand sheep's. the dogs now and than came by us to check up on us.
You have to be careful with this dogs, they protect their sheep's, so you should stay calm and pay neither the dogs and the sheep's any attention. The shepherd also pasted by, wonder if the dogs been nice to us.
After some time all the sheep's had past us and we could finally pack our things and leave. We started climbing, we had to take it slow as we had to cross the sheep's, and the dogs didn't really like that. Before the col we passed a nicely formed lake.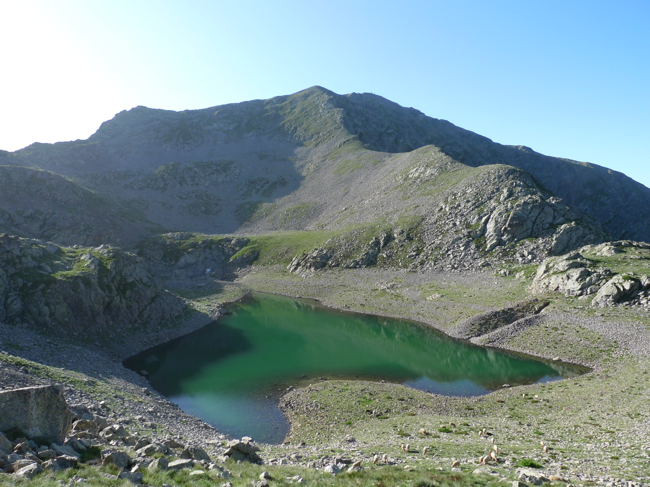 We reached the Col du Barn, 2452 m and left all the sheep's behind us. The climb down was stony but nice with a lot of Alpen Rosen (Rhododendron) and Blueberry plants, unfortunately with out any berries.
We came down to a Vacherie and continued on a road up to the Col de Salese, we ate some lunch there.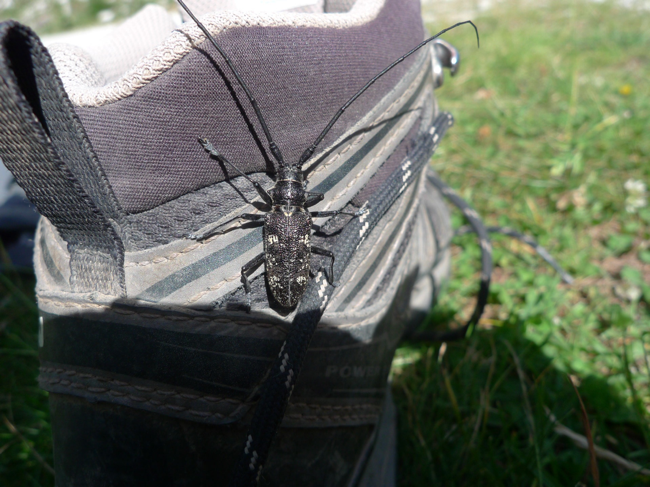 A lunch guest
We continued following the road down a bit but soon the path went in to the forest. In an hour or so we reached a parking place.
As we try to avoid walking on roads we took a lift with an old couple on their holliday, down to Boreon. An active place where you can see some wolfs in a park. We had a some lemonade and chaired a plate of French frieze.
We where bit of track but we soon found GR52 again and continued up to a lake. On the way we meet a lot of day walkers. It was a popular area. It had become very hot so we took it slow and had some breaks.
The lake, Lac Trecolpas, was small but really nice with a tiny island. We did our evening routines, made some couscous with curry in the evening sun.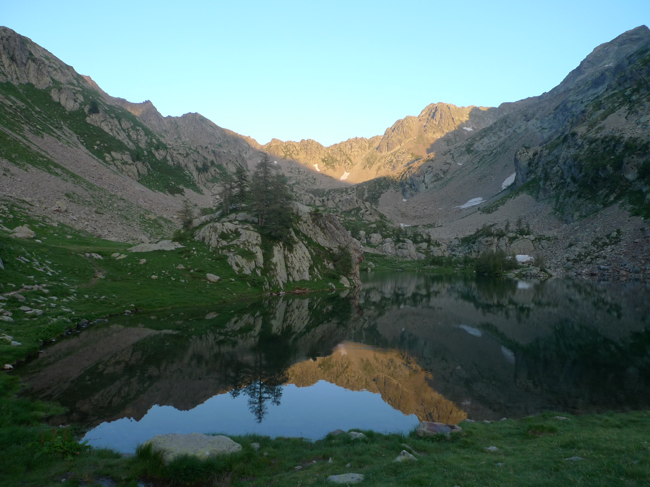 There was two other groups that was staying at the lake, one family and one big group of friends. They stayed at the other side of the lake so we still had a calm evening by our selves.