Day 32: 7 July, Chalet de Nant Borrant to gite de alpage de Plan- Mya
We made breakfast outside the refuge, before we climbed up the valley. We had company with the people from the refuge, they where all doing the Tour de Mont Blanc, around Mont Blanc. We climbed up, about 800m to col du Bonhomme (2329m). We walked from green area to a snowy top.
Getting closer to Col du Bonhomme
We had lunch at the top with Lori, Alex, Kate and Karen.
Anna, Lori, Alex, Kate and Karen eating lunch at Col du bonhomme
We continued for about 15 minuets, then we got a little worried that we had missed a turn. The track was supposed to split from the Mont Blanc Tour. Kate and  Karen came up with the idè that they would continue a little further and give us a sign if we also were supposed to go up there. We waited for the sign and it was positive so we continued to la Croix.
Poles up! The sign for continuing
There was a refuge just 5 minuets from there. We went there to fill up our water bottles. It was a hot sunny day. Then we continued walking along Crete des Gittes on the top. It was beautiful! One of the highlights of the trip so far. With Panorama view! We really enjoyed it and took a lot of pictures on the way. We looked back at Mont Blanc and Col du Bonhomme.
Anna walking along Crete des Gittes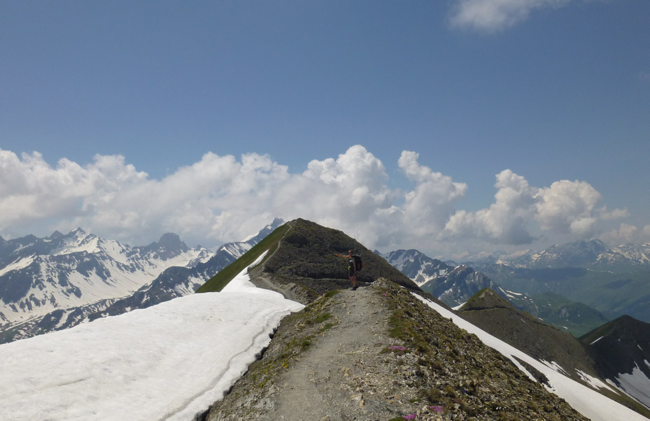 Crete des Gittes
Crete des Gittes
We came down to Col de la Sauce 2307m and after that the track led us down the valley. We walked down to Plan de la Lai. The refuge was next to a road, we didn't like it. We continued up the hill go gite d'alpage de Plan Mya. Which was a wonderful gite. They also sold cheese and sausages. We bought a piece of cheese. Thei area is famous for the Beuffort cheese. We made dinner outside, lentils with vegetables