The Pyrenees 2010: Day 12
Luchon – Granges D'Astau
We woke up early, eager to leave this touristic village and to get higher up in the mountains again. We ran to the supermarket and bought some food and had breakfast in our room. It was cloudy and we didn't see the mountains. We had a long day ahead with 2000 m of climbing to start with. According to the guidebook the first 1200m of the climbing was on a road and it was boring and tiering and there was a cabin lift. We decided to take the lift. Anna had never taken a cabin lift before and she was quite nervous. The lift was supposed to open at 9.30 am but something was wrong and we had to wait for more than an hour before it was fixed.
The lift took us to a small ugly ski resort but the view was fantastic, we were up above the clouds looking at the tops of the mountains and the clouds were resting in the valley. It was like magic!
We started climbing and we had some walking up and down. Before the last climbing we had lunch. Filled with new energy we went to the top. We started to walk down in zig zag through the steepest part. We walked in a green valley filled with flowers and some trees. It started to rain a little in the afternoon and it started to get foggy, we came to a lake and we could hardly discern it because of the fog. There was an auberge where we stopped for a soda. The fog was atmospheric.
We walked really fast the last hour, the weather was getting worse and we just made it to the gite before it started to rain really bad. We got our own little room with a shower. There was a kitchen in this gite and we cooked vegetables with coconut milk and bulgur. We even made dessert strawberry and rhubarb compote. After dinner we went inside the bar/restaurant and sat down in a sofa by a fireplace and bought a glass of wine. Very cozy evening and the guy that worked at the gite didn't just make sure we got the best seats he also lent us a lap top and gave us a plate with different sausages and cheese.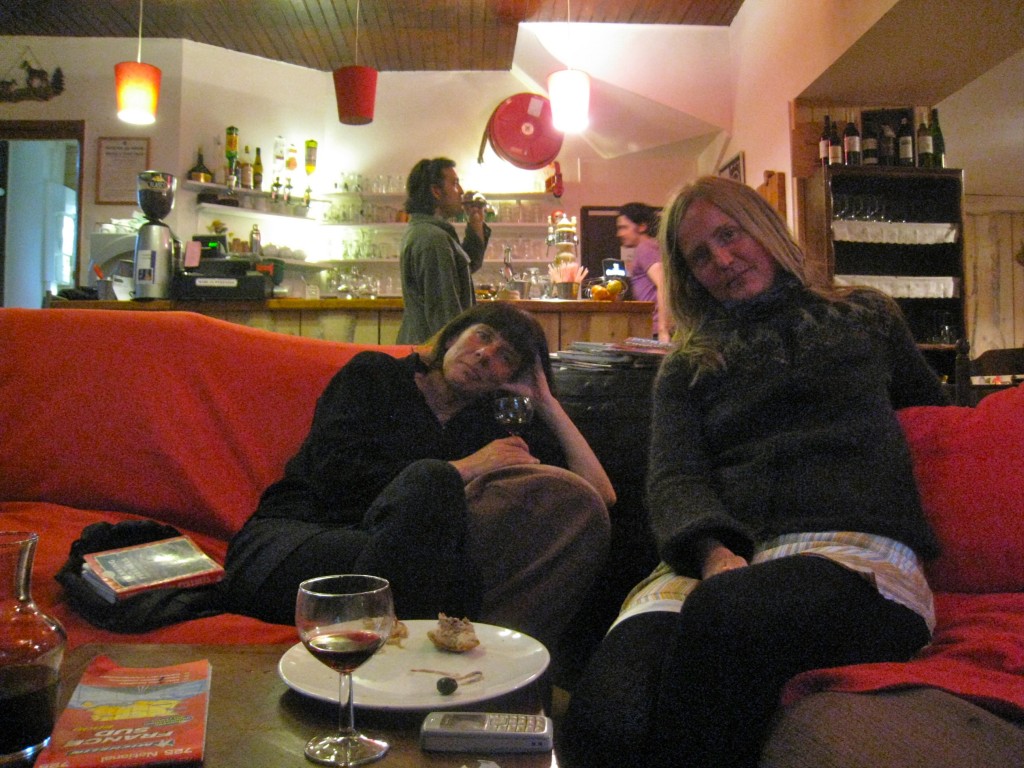 We said good night around ten o'clock.