The Pyrenees 2010: day 8
Refugio Viados
REST-DAY!
After seven days of long hours walking we were quite tired. We loved this place and decided to stay at and relax for one day.
We slept in and didn't get up until eight thirty. We had hot chocolate  and a cheese sandwich for breakfast outside the refuge.
We washed all our hiking cloths and went for a short walk in the area around the refuge.
There was a camping down the hill, we had lunch there and then we went back to the refuge and lied down outside, were we stayed for the rest of the day, writing in our travel journals, reading books, looking at our pictures. Suddenly…
…four people came toward us and said "Thanks for the wine". We recognized them from two nights before, at Casa Marion in Parzan, were we had given them the rest of our wine. Half of the group Maribel and Ricardo were continuing and the other half Yakir and Idan were staying the night to catch a bus the next morning towards Madrid. We had some chat and said goodbye to Maribel and Ricardo.
We had a great afternoon and evening together with Yakir and Idan, two nice fellows from Israel. We talked, ate dinner and looked at the sunset.  Since it was Saturday and the refuge was fully booked Yakir and Idan didn't get any beds, they slept outside under the stars. We got two beds in a small simple uninsulated  house outside the refuge along with some other people. We didn't mind and we slept well.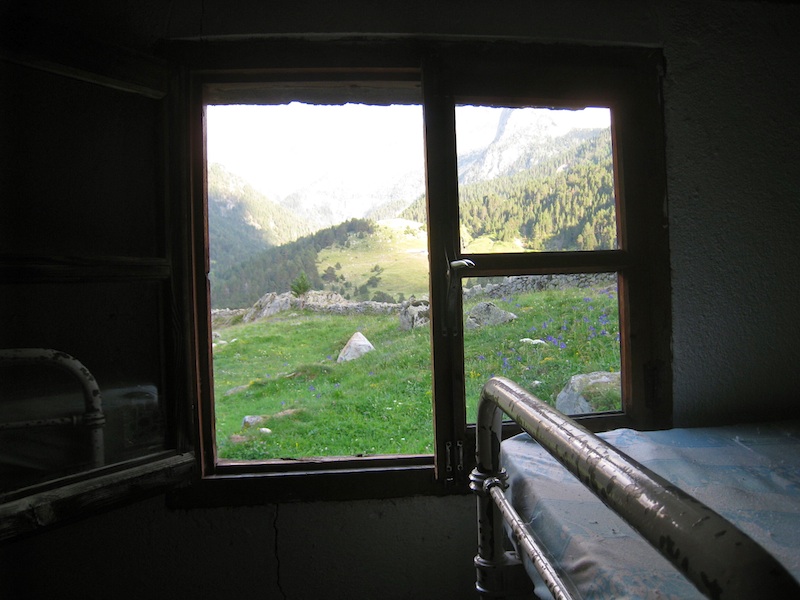 The window in our "alternative" refuge