Day 9
Passo Duran – Rifugio Pian De Fotana
We got up at seven o'clock and made some breakfast on our "porch". We left an hour and half later, our plan was to walk a half stage to Rif. Sommariva al Pramperet.
We started out on the asphalt road, but it was only for a short while, soon we turned into the wood and some time later we were in the "wild west".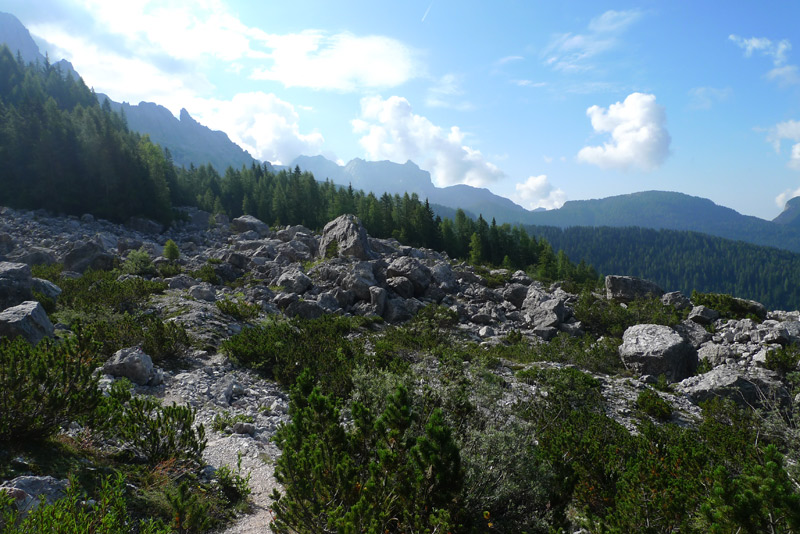 We came to an empty house with water source outside. There were some people sitting there eating and we did the same and of course we drank the cold and fresh water.
The sun was shining but around twelve the weather changed and the clouds started taking over the sky. We came to Rif. Sommariva around one o'clock and found it way to early to stop.
The weather was really unstable, it was fog and we saw nothing but some minutes later it was clear and then fog again…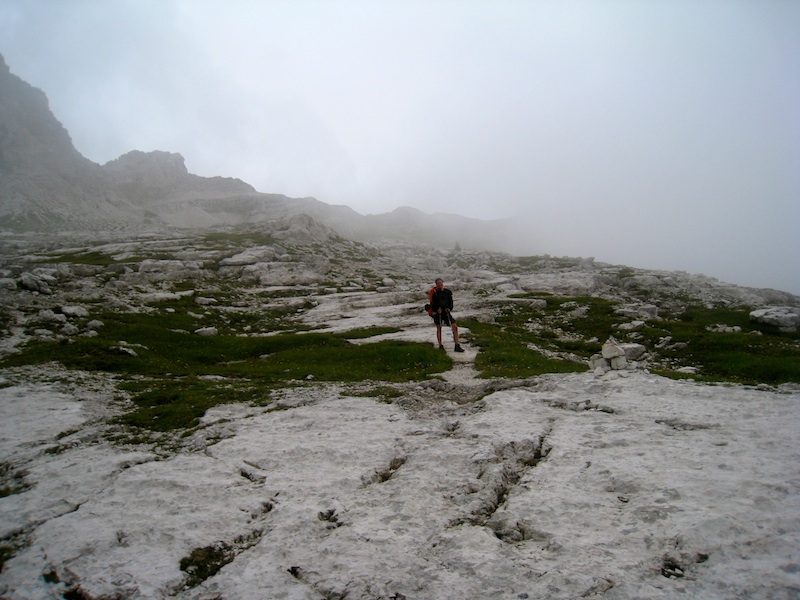 Sun on one side and fog on the other
It stared to rain, but we didn't let the weather stop us, we took us to the top!
The view from the top Forcella de Zita Sud (2451m) was of course beautiful, as always in the Dolomites, that part was never disappointing. We enjoyed being above 2000 m aware of this was the last time, from now on we would only go down.
We started to walk down, the weather was still unstable. We ate some bread and cheese in the grass and saw some marmots and deers. The hill was quite steep and we were tired. The ground was wet and slippery. We arrived at Rif. Pian De Fontana at five o'clock and at that time it was raining quite heavily.
It was a nice Rifuge, we sat down in the dining room by the fire and relaxed . We talked to a group of single walkers that had been walking from Munich and were going all the way to Venice.  We ate pasta and gulash for dinner at the rifuge and after dinner the rain had stopped, we went outside looked at the wonderful view and the sunset. We slept in an attic that we shared with six other people, it was crowded but we slept good anyway, used to no comfort. Around 4 o'clock it started to rain really hard and it kept us all a wake until morning.