Day 64: 8 August Sospel to Menton
We were about to do our last etappe of the Gr 52 and we were doimg it together with Claudia. We were going for a swim in the Mediterranean sea after two months walk! It was cloudy. We started walking out of the village but after about 10 minuets we realised we had walked in the wrong direction. It stared raining and the sky was really dark. We walked back and found a roof for protection while putting on some rain clothes. Now it really started to rain and to thunder.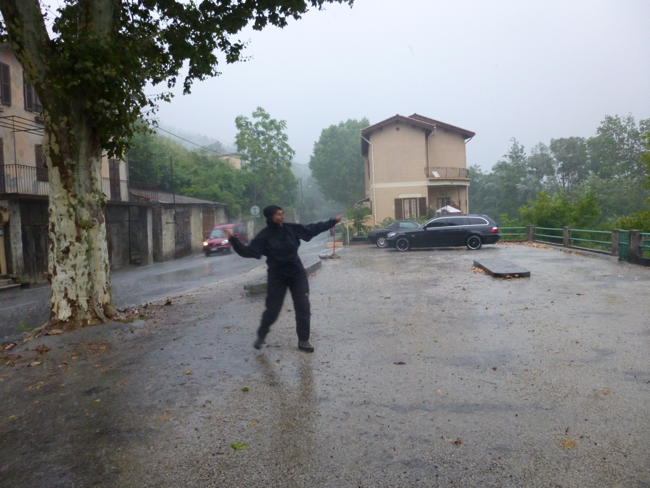 Claudia doing the rain dance
We stayed under the roof for about half an hour then we decided not to walk. The sky was black and thunder is really dangerous in the mountains. We decided to take the bus to Menton. We caught it at 10 o'clock and were in Menton about half an hour later. Claudia had booked a room in a cheep hotel close to the beach for two nights. We went there and asked for the possibility to put in two more persons in the room. It was possible even if the room was tiny, but we don't need so much space, we are used to our 4 square meters tent. We took a swim in the ocean and did some shopping.
Swimming in the Mediterranean sea
We didn't want to wear our hiking cloths in Menton, we looked at basically all dresses in Menton before we decided to buy the same dress! At least could decide on taking different colours.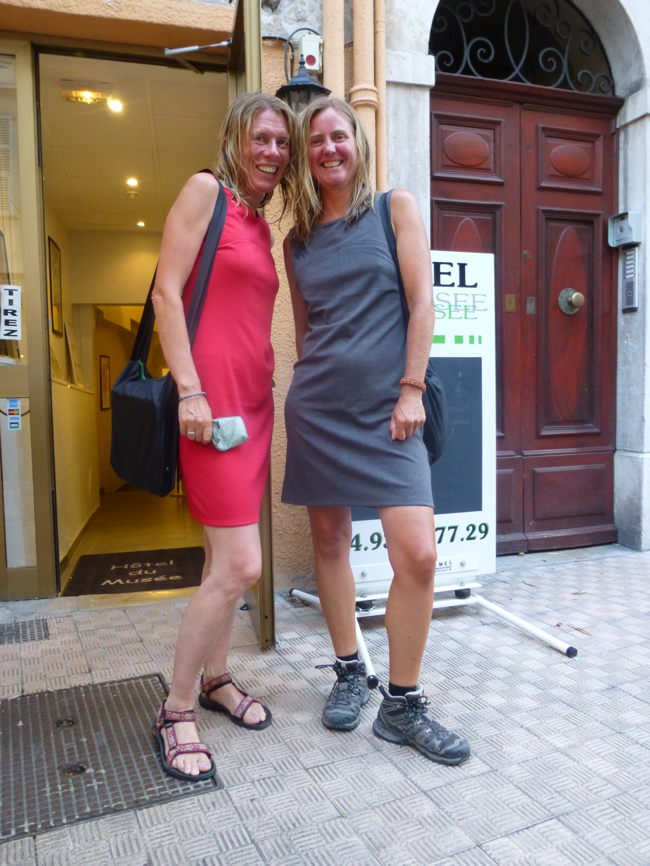 Miss red and miss grey
Claudia walked up to a woman that she thought looked local and asked for a nice restaurant and got recommended an Italian restaurant. We went to the grocery store and bought some breakfast, we met the nice woman that we had hitchhiked with two days ago (on our flat tire trip). We went to the italian restaurant in the evening and ate delicious seafood and glace four for desert.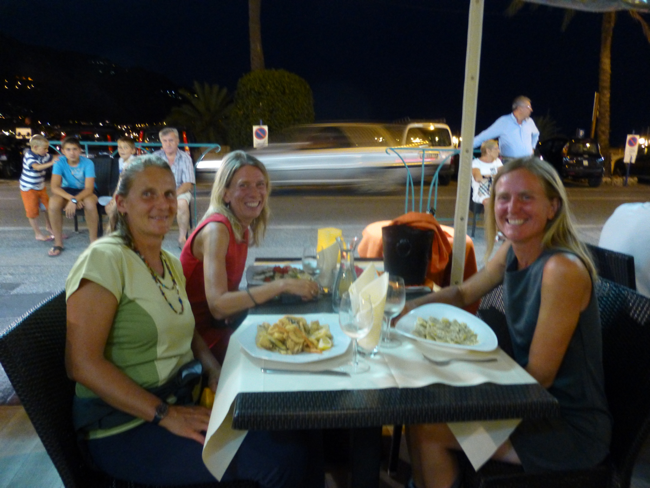 Claudia, Ýrr and Anna in Menton
Calamaris
The stores were still open in the night, we went in some on our way back to the hotel. We went to bed at midnight, we hadn't gone to bed this late for two months.