Day 73: 21 August, Sant Anna di Vinadio to Bagni di Vinadio
We woke up by the sound of people walking around praying. it felt a bit scary!
Early morning
We had short day walk in front of us so we took it slow. We had breakfast in the tent as it was very cold. You could feel that the summer is about to end, at least up in the mountains.
It felt nice to leave Sant Anna, a little bit to religious atmosphere for our taste. The walk was nice and easy up to the Pass de Bravaria (2311 meter).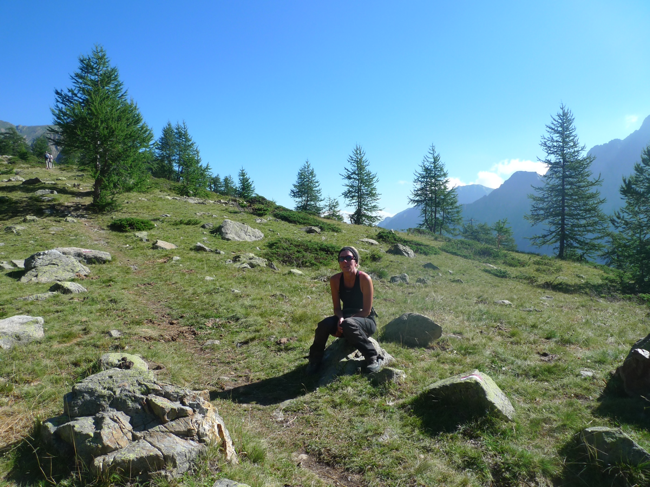 Yrr resting
On our way we picked and ate a lot of blueberries, wild strawberries and raspberries.
We arrived to Bagni di Vinadio early in the afternoon. We decided to stay at the camping. We took a shower, finally warm, at least 2 min for Anna and 30 second for Yrr.
We sat outside of our tent writing and talking. It was nice to be a bit lacy for a while.
Around 18 we went in to the village to find a place to eat, it was a bit to early, italians eat around 19.30 and it is common in the mountains that the restaurant have fixed hour for dinner. We found three restaurants, neither of them looked very nice, some even looked a bit dirty. We took a drink at a the bar Nasi that also runs the camping. Yrr got a new polette  for the shower.
As it still was early we walked to search for a restaurant at the close by neighbor village, Strepeis. Luckily we found one really nice place,  that served us a delicious meal; pasta with mushrooms, roast beef with mushroom and zucchini and for dessert we had some creme caramel.  We drank a really nice wine with it.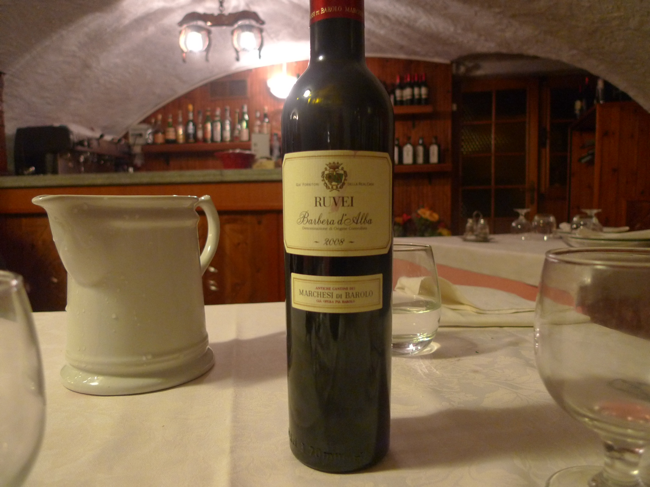 The nice wine
We walked happily back to our tent. At the camping it was still quite busy but we where soon sleeping anyway.