Day 56: 31 July, to St Ètienne de Tinèe
We only had about 20 minuets walk to col de la Colombiere (2237 m) from our tent. It was nice to stand on the top and look back at the beautiful walk we had done the day before and the place we had slept at.
Looking back
We walked down to St Dalmas quite slow, focusing on the small things in the nature, butterflies, flowers,crickets, herbs ( lavender, salvia, oregano…).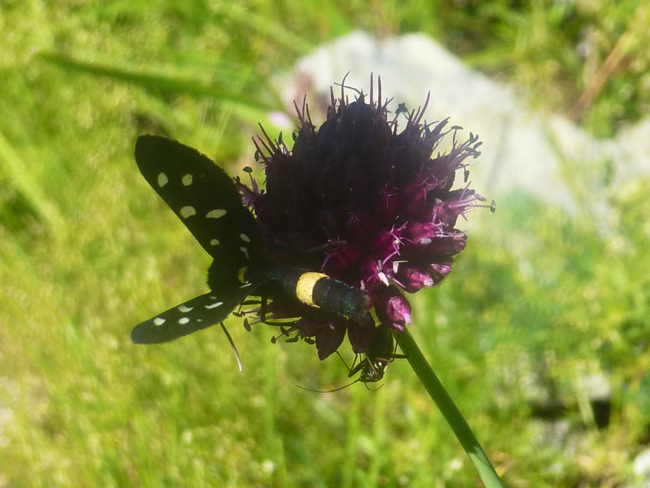 Small things in the nature
We went to the post office when we came down to St Dalmas, we had sent our poste restante package to there. Our plan was to send it further but there are two St Dalmas on the way, very confusing. Anyway our package had not arrived, the lady at the postoffice was very helpful, she made some phone calls and said that hopefully the package would be in St Ètienne the next morning.
St Dalmas from above
We sat down at a cafè and had a lemonade and talked to a couple from Holland we had seen a view times in the trail but not talked to. They were also walking the Gr 5 but they were doing their last day. Claudia came and sat down with us and we walked together down to St Ètienne slowly in the heat, still enjoying the butterflies, herbs and flowers.
Lavendel and something hairy
We arrived early in the afternoon to St Ètienne and went to the camping. Claudia went to the gite she had booked. It was a nice camping with a swimming pool. We went for a swim, washed our clothes in a washing machine and walked to the centre. We went for a drink with Claudia and after a while Silvia and Josè joined us. Nice time with nice people, then we went to the store to buy food. We cooked fresh sausages and made a fresh salad at the camping, it tasted really good!