Day 55: 30 July, Larche to below Col de la Colombiera
Claudia was early out of bed and had left when we went up. We made breakfast at the refuge, the very sweet owner gave us hot water and insured us that the weather forecast for the next days would be sunny.
When I was paying she didn't want us to pay for the wine. She really had made us feel very welcomed and she really took good care of her guests.
Entering the national park,
We took farewell and started to walk towards the national park, Mercantour. You entered the park by walking in a nice valley along the stream.
There was a lot if marmots and signs telling you that it wasn't allowed to feed them. Usually it is quit difficult to come close to a marmot but in this park they had become quite unscarred.
At the end of the valley we started to climb up, all most at the top we walked into Claudia. We walked together up to the lake, Lac du Lauzanier. We had a break, Yrr took a swim, I dipped my feet in the cold water. We had a Pain Chocolate that we had brought at the camping shop in Larche.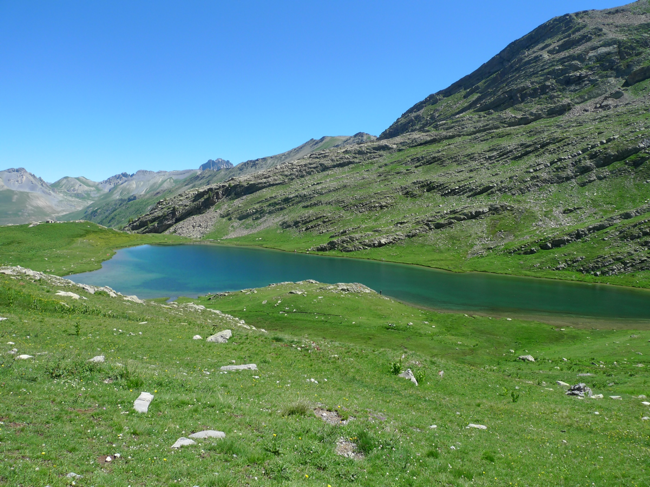 Lac du Lauzanier
We continued up through some stony area to another lake.
The last climb up to pas de la Cavale was really nice, a narrow path it went along the stony slop, gradually going upwards. Just a few plants was growing in the rough ground.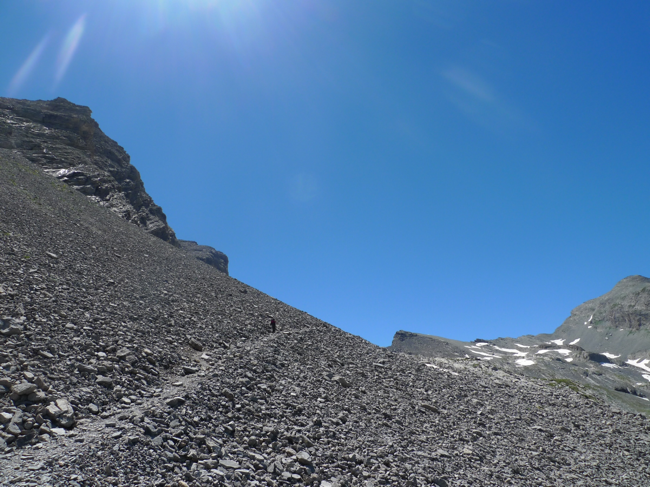 At the top we had lunch together with Claudia with nice views all around us.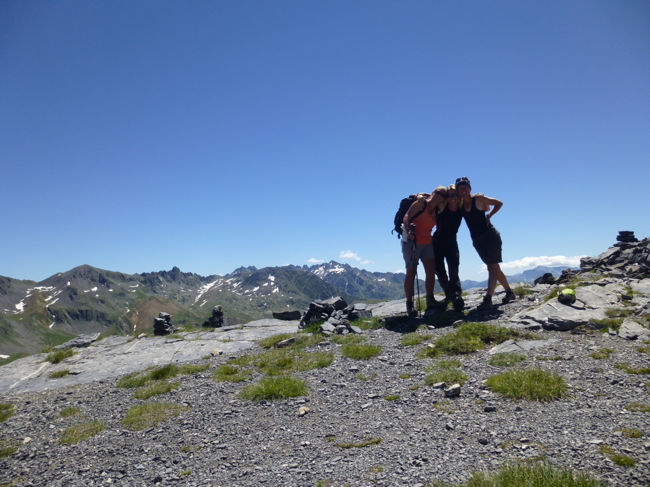 Group photo at the top
We continued down together, down to a grassy valley with sheep's. We talked a lot about flowers we past and got some nice tips from Claudia about eatable ones.
When we started to climb again I found some really nice and big champions in the grass, but we where in a national park and picking them wasn't allowed. I behaved even though it was very tempting, a specially as we where planing to make risotto the same evening.
On ou way download to Bousieyas we past à "ghost village".
We reached the Col Des Fourches, Claudia went ahead and we sat down for a while before heading down to the village Bousieyas. We had some Panash (beer an lemonade) together with Claudia and two other Swiss, Sylvia and Jose. It was Caudias birthday. The others where staying at the gite in the village but we had decided to continue a bit further and camp somewhere on the way.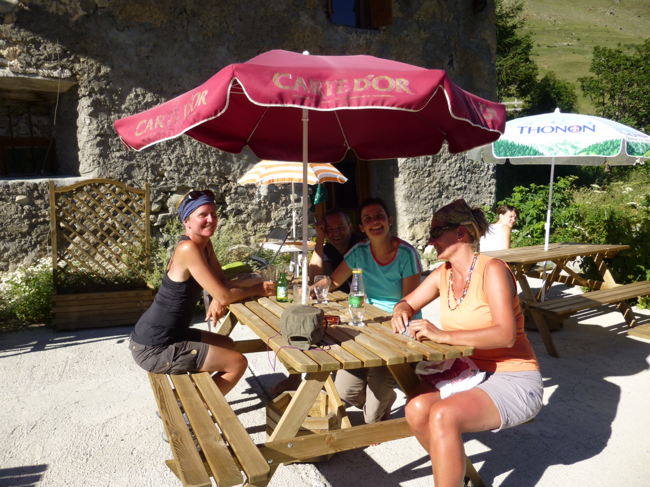 Celebration of Claudias birthday!
The owner of the gite gave us some nice tips of places close by. We bought some cheese and chocolate and he gave us some bread.
Further up we found a really nice place, with a nice view over the valley and of the other side where we had been walking earlier that day.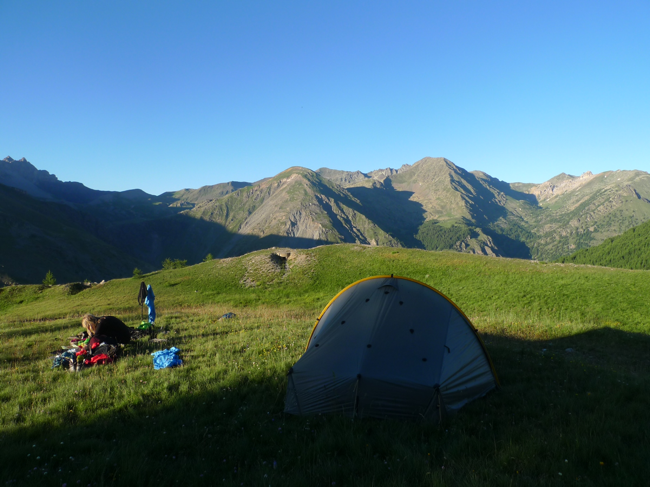 We washed ourselves and some clothes in a small and warm pond. Yrr mad lovely risotto and I took care of setting up the tent.
Before going to bed we ad some chocolate and looked at the mountains and the sun going down.