Day 54: 29 July, Lac du Vallonet to Larche
The weather woke us up around six o'clock. It was a storm and heavy rain. We were afraid the tent would blow away! We started packing our stuff and it started to thunder, right were we were. This was not what we had expected, the tent was placed in quite an open space. We ran out of the tent and hided by a big rock, waited for the thunder to pass. Then we went back into the tent and quickly ate some bread with peanut-butter before we packed the tent and started walking in the rain. We had one top to climb before going down to Larche. Considering to the guidebook there was supposed to be a ruin with a shelter before the top. We decided to go there. We came there after about half an hour walk, we were totally wet, but we had good rain cloths. It was foggy. We went inside and made some hot soup (varma koppen)with apples and cinnamon. We waited, the weather got worse, and better, and worse again…
Anna inside the shelter
After about an hour we decided to go.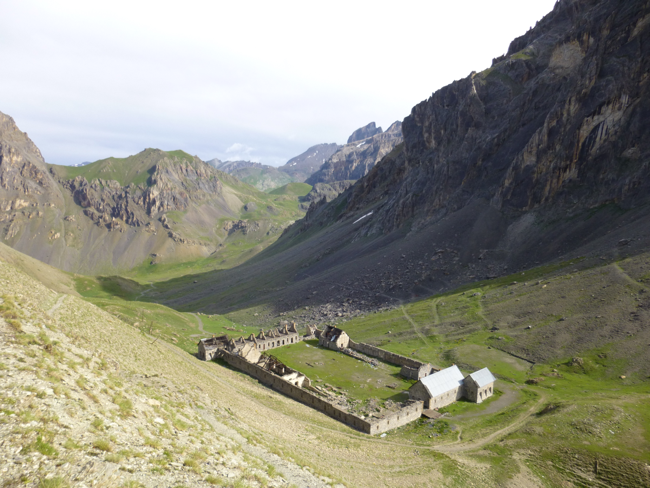 The ruins from above
When we came out the weather got better and when we about 20 minuits later came to the top col de Mallemort (2552m) we could actually see the sun and we could enjoy the view.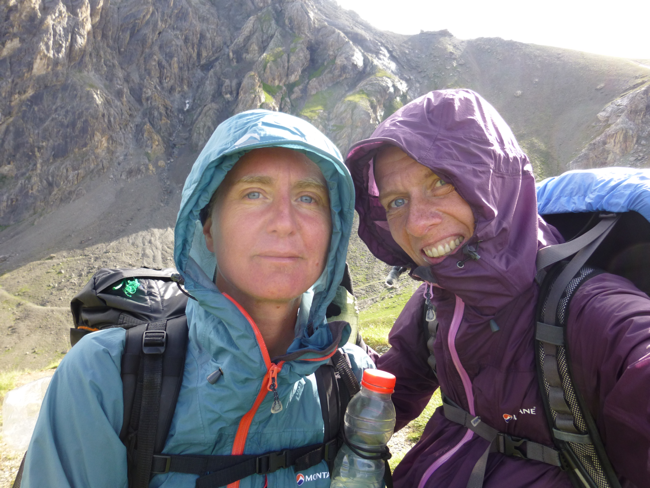 Group photo from the top
But it was still windy and we didn't stay for long. We started to walk down and suddenly there was sun and clear blue sky! Well, not for very long.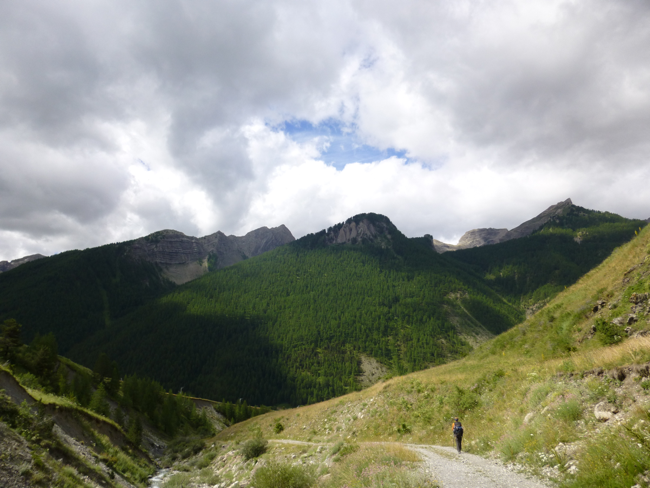 On our way down to Larche
We walked for about two hours and arrived in Larche around noon. We found an auberge and went inside, it was warm and nice. The weather got worse again. We had a wonderful three dishes lunch. We sat in the restaurant for quite a long time. By the time we came out the weather was better but it was cold. We went to the refuge. In the refuge we met Claudia a really nice hiker from Switzerland. We spent the afternoon with her, chatting outside the refuge and we walked together to the camping where there was a small store. We bought some food we needed for the coming days.
Anna and Claudia outside the refuge
We just had some bread, cheese and sausage for dinner, we sat in the dining-room with the other people that were eating the refuge food, it lookt really good. The nice lady in the refuge gave us some tasty soupe. The refuge didn't look much from the outside, but it was a really nice place. There where possibilities to cook your own food and the woman who ran the place was super nice.