Day 51: 26 July, Chateau-Queyras to Celliac
We did some practical stuff on the internet before leaving, we rarely have connection so we have to take every chance we get.
The sun was shining and we started to climb, the first part through forest and some grassy fields.
After two hours we got the first view of the col de fromage, you would expect that you would get some cheese on the top. But unfortunately we did't.
Col de Fromage (cheese in French)
We had lunch all most at the top, on a grassy slop with a nice view.
We continue to the top, the last part went via a rather flat track, nice for a change.We took a break at the col (2386 m) to enjoy the view before heading down to Ceillac, all the way down to 1639 m.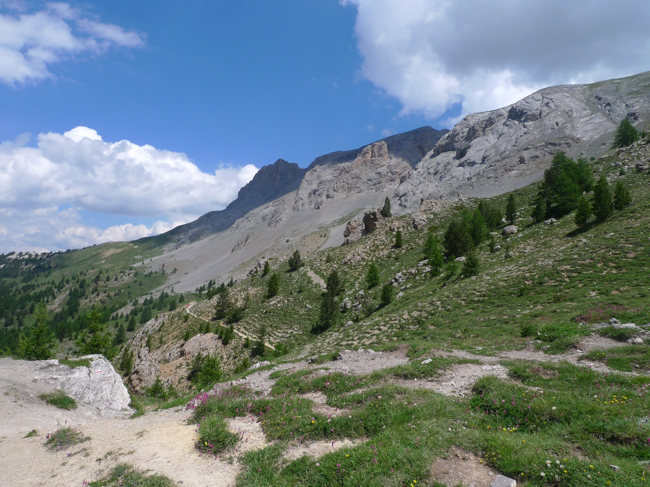 At the top
Celliac happened to be a nice active village. We first went to the post office to pick up our parcel and repack it. A very nice and helpful women worked there. The opposite from the unfriendly women at the post office in Val d'isere.
Afterwards we sat down and had a glass of wine before looking for a Gite for the night. We got two beds at a big Gite that had a great, well equipped kitchen that we could use. We made some pasta with mushroom (black trumpet) and bacon. For dessert we had some blueberry/almond tart. It tasted really nice. We accompanied it with some white wine.
As usual we went to bed really early, did some reading before turning the light off.