Day 2: Tjålhte
We woke up to the sound of raindrops falling on the tent. We was a bit surprised as it had been such a nice weather for such  a long time. Outside it was cloudy and a bit foggy. The rain slowed down after a while and we went up to make some breakfast. I had some Muesli with hot apple/cinemon soup (Yrrs and mine specialty) and Christer made some porridge.
Two other hikers past by,  they where on there way home, we where the first people they had seen for their whole hike. Sounded promising to us, even though it is nice to meet and exchange experience with other it is also nice to be totally by yourself. That was also the cause why we choose to hike in this area as it is not that well-visited, for some strange reasons.
We had decided the day before to take walk around the Tjålhte mountain and leave the tent and some stuff behind and just bring what we needed for the day. The main reason was that Christer had some pain in his leg and needed a day rest from the backpack.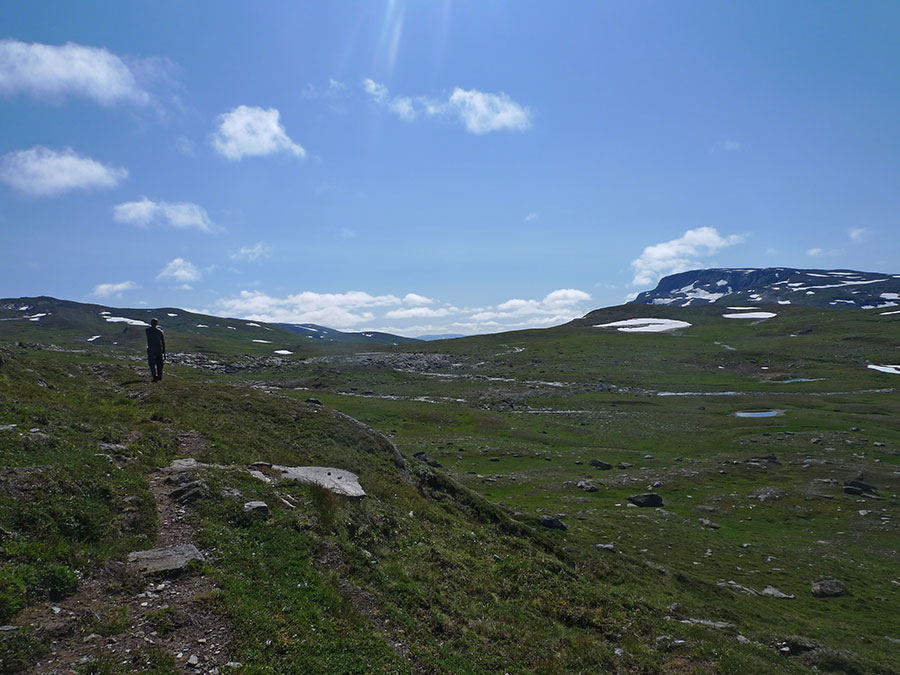 The weather became mush better and after a while it was full sunshine again. We walked a long the hillside. Saw some reindeer's on the Långfjället on other side of the valley.
We had a lunch break at the south side of the Tjålhte. It was very hot in the sun so we tried to find shadow behind a big stone. We baked some bread and had some lentil pate with it. It tasted really good.
We continued up a bit to round Tjålhte. We had to cross some snow. The climb down to the lakes and to our tent was quite wet.
We did the evening routine, with washing and preparing dinner. We had to look for more wood to our wood stove. As we where over the tree boarder it was a bit tricky at some places but we found some Vide bushes (Salix lapponum) that had dead brunches that we could use.
We made pasta with pesto and cream. Really jummy! For dessert we had some compote on home dried strawberrie with milk. It was delicious. When the Mosquito's came we went inside and left the outer tent door open. The Mosquito net was closed so we safely could enjoy the nice view!